Sustainability strategy
Outokumpu's sustainable stainless steel contributes to a world that lasts forever. Our long-term climate target is to reduce our direct and indirect CO2 emissions as well as those of our supply chain (scopes 1, 2 and 3) by 2030 and to reach carbon neutrality by 2050. Therefore, we are developing a carbon neutral road map in all our operations.
Customer's first choice in sustainable stainless steel

Environment

Reduce emissions and provide solutions for a sustainable future





Social

Health and safety of our people in everything we do

Governance

Ensure transparency and compliant processes

Sustainability is integral to our strategy and implemented with programmatic approach
Electrified production
Sustainable sourcing
Inclusion and diversity
Leadership and culture
Compliance
Digitalization
Partnerships
Outokumpu values
Group standards
Zero corruption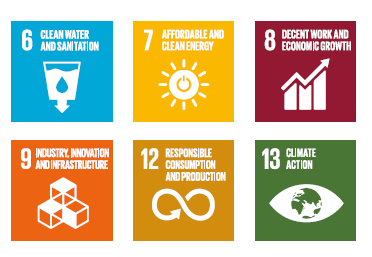 UN Sustainable Development Goals
We are committed to the United Nation's Sustainable Development Goals (SDGs) and have chosen six SDGs as the most relevant for our contribution. They are: Clean water and sanitation; Affordable and clean energy; Decent work and economic growth; Industry, innovation and infrastructure; Responsible consumption and production as well as Climate action.
ResponsibleSteel
ResponsibleSteel is a global multi-stakeholder standard and certification initiative for the steel industry. The initiative is developing an independent certification standard that helps the steel industry to communicate about carbon footprint and other sustainability aspects of their products and operations to customers and other stakeholders. Outokumpu joined the initiative in 2019.

Investing and improving
We are continuously seeking ways to further improve our efficiency and to minimize our environmental impacts.
Outokumpu operates in a material and energy intensive industry. Out improved environmental efficiency is based on long-term efforts and continual improvement. We are constantly moving towards more sustainable operations both by improving existing processes and by developing completely new ways of working in a more environmentally efficient way.
During the last 15 years, Outokumpu has invested more than EUR 450 million in environmental protection, mainly related to projects to improve energy efficiency and to reduce waste to landfill. We have certified environment management systems and we implement continuous improvements in all production units to ensure compliance with all standard and regulations.