Driving permit - truck, crane, lift
In order to drive a truck, crane or lift, training is required, as well as a driving permit that is issued by your manager. The driving permit specifies which equipment, area and tasks are covered. Repetitive training shall be undertaken every five years.
Driving permit for contractors to drive a truck, crane or lift shall be handled restrictively. Permit is given in connection with a specific job via a filled in coordination form. Designated appropriate drivers shall be specified by the contractor in the planning stage of the work. The contractor shall be able to show a valid driving permit from their employer.
The driving permit that is given via the coordination system shall include information on:
Who will drive the equipment
Which work task it applies to
Equipment and area
Interventions in the LPG facility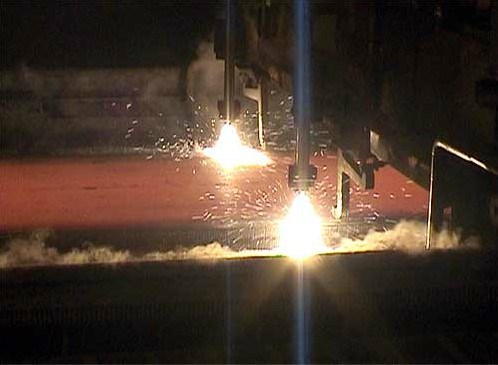 To in the safest way avoid making mistakes when working on our LPG facility, all work on both the rated and non-rated areas shall be performed with a work permit. The work permit shall also be issued for certain work that does not apply to the interventions in the LPG supplying equipment.
The work permit shall clarify:
What shall be done
In what order
Who shall perform each task
Designated LPG manager for Avesta Works issues work permits for the LPG facility.
Interventions in the acid facility
All interventions in acid management systems, from simple valve replacement to changes in the control and regulation system, must be governed by a work permit. The work permit is an instruction describing the actions for securing and reseting of an acid management system, but does not describe the actual intervention.
Acid responsible (or mech-on-call outside office hours) issues work permits.
Work in confined space
Confined spaces are tanks, tubs, channels, filters or other low points where dangerous atmospheres can arise and there are limited access possibilities. It is above all a lack of oxygen, remaining substances/gases, as well as the difficulty for emergency rescue that make confined spaces extra hazardous environments.
Work in confined space shall be done in a controlled manner and when other working methods have been excluded.
Work in confined space shall be risk assessed and in some cases preceded by a work permit.
Confined spaces in Avesta Works are signposted based on risk level. The risk level indicates what needs to be done before starting work, in order for it to be carried out safely.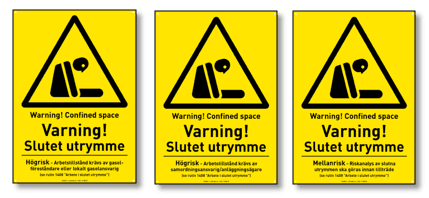 Hot work
Hot work is work where heat generation or spark formation can occur, for example welding, cutting, soldering, drying, heating (also hot air gun), work with grinding/cutting disc and hot work on roofs.
Before hot work begins in temporary workplaces, a written permit shall be issued.
The Swedish Fire Protection Association's safety rules are applied for hot work. Hot work may only be carried out by staff that has undergone special training. The training shall be evidenced by certificates in accordance with the Swedish Fire Protection Association's rules; this is also the case for welding and fire guards. Only Scandinavian training/certificates are valid for hot work.
For hot work done by contractor the contractor is responsible for a fire guard being available at the workplace.
The hot work or other work that emits smoke, dust or mist may not be carried out in areas protected by automatic fire or gas alarm facilities until these have been disconnected.
Ground work and blasting
Surveying must always be done prior to the ground work of type drilling, piling, digging or excavation with machine. Excavation work may only be carried out with authorization of the Property Manager. Blasting shall only be done after authorization by the Site Manager.
Electrical Work
To make reconnections, breaks or other electrical work requires a permit. This permit is issued by the electricity area responsible in each area. Temporary electrical facilities/equipment may only be connected after approval from Avesta Works' electrical manager or person delegated by them.
Work at height
A fall from height often leads to serious personal injury. There are also risks of working at different levels, as objects can fall and injure persons at a lower level. To avoid personal injury, work on different levels may, in principle, not be done at the same time.
If the working height exceeds 2 meters, a fall protection harness shall be used if there are no guardrails. The use of fall protection equipment requires special training that shall be evidenced by certificates or similar.
When working at heights, tools, and other loose items shall be handled and stored in such a way as to prevent them from falling down. 
When working above walkways or above other places where person or vehicle traffic is present, the area shall be cordoned off or an especially instructed signalman shall be present.
In the first place, scaffolding shall be used in height work.
Scaffolding
Scaffolding may only be erected, changed or torn down by our scaffolders. Scaffolding that is approved for work shall always be marked with a signed approval tag.
Sometimes it may be necessary to cordon off the work area under the scaffolding. Make an assessment before you start working.
Loose items on the scaffolding present a tripping hazard and can even fall down. Secure all which you need for your work and make sure that the scaffolding is free from unnecessary material.
Remember that only our scaffolders may erect, change or tear down scaffolding.
Mobile Work platform
Mobile Work platforms can be used when, for example, scaffolding cannot be built because of lack of space or if it takes longer to build the scaffolding than the work that will be carried out.
When using a mobile work platform, an approved inspection certificate must be able to be presented
In order to use Mobile Work platforms requires training, as well as driving permit.
Fall harness shall always be used; anchorage of the harness is done in the basket or in a fixed building part if this is more appropriate. Fall harness shall also be used when traveling with a mobile working platform.
Ladders and Trestles
A fall from a ladder often means serious injury and it is therefore especially important to think before using and, above all, working from the ladder. Ladders may only be used as a means of access and for short-term work. Work from a ladder may only be done if the risks of using ladders are so small that other safer equipment is not justified.
Considerations:
A-shaped ladders are preferred to leaning ladders.
There shall be skid protection that is not worn out. The ladders shall not be able to slip straight out or sideways.
All ladders/trestles must be type approved.
It is not appropriate to use a ladder if, for example:
you will be handling something with both hands (larger drill, bolt gun or similar) or when you are going to do something that requires you to use force.
you will be handling something that is heavy or large or you need to reach really high or over a large area.
you will be doing something that takes a long time.
the ground is such that you cannot set up the ladder safely. For example, the floor in a wet environment can tilt and the ground outdoors may have differences in levels or irregularities.
Online safety course and knowledge test
To receive your certificate, read through the following sections and then take the knowledge test:
4. Coordination of contractors
5. High-risk work