LA's Costa Mesa's Plaza Tower still a shining beacon 30 years on
In 1991, one of the world's most esteemed architects, the late César Pelli, was commissioned by IBM to design the 21-story metal and marble Plaza Tower in Costa Mesa, Los Angeles, California, USA. As the designer of London's One Canada Square, Hong Kong's Cheung Kong Center, and Kuala Lumpur's Petronas Towers, Pelli is famed for skyscrapers that fit the local culture. For LA, he designed a glamorous tower whose most striking detail is its stainless steel surface, especially on the western face, which makes a broad curve to reflect the sunset.
Outokumpu was awarded the contract to supply the stainless steel for the fabrication of the Plaza Tower's façade. At the time, stainless steel was still relatively new material for an entire office tower and was one of our first projects of this nature. The building has since gained wide recognition as the architectural centerpiece of the Orange County skyline.
For Outokumpu, the project established a new approach to high-quality rolled finishes at the Dillenburg plant, where we have continued to innovate. This work makes us the leader in stainless steel architectural facades today. Over the past 30 years, stainless steel has become an approved and much-valued cladding material for sophisticated architecture, mainly owing to its sustainability and durability. In celebration of its durability – and as a tribute to César Pelli's pioneering spirit – we reflect on the flagship Plaza Tower project's success. 
Fabrication requirements
Pelli and Associates took an early decision to use stainless steel in the Plaza project, recalls Udo Clages, past Vice President of German specialist façade contractor Christian Pohl GmbH. "Pelli used stainless steel with a Deco Linen finish as an exterior surface in his previous project at One Canada Square in London and was keen to use it again because of its soft, gleaming finish. "However, the challenge was to ensure consistent quality. Stainless steel is reflective, and any unevenness will show up immediately. It's also not as easy to form as an aluminium panel, which is softer. An even bigger challenge was to find ways to roll large three-meter sheets while ensuring complete flatness.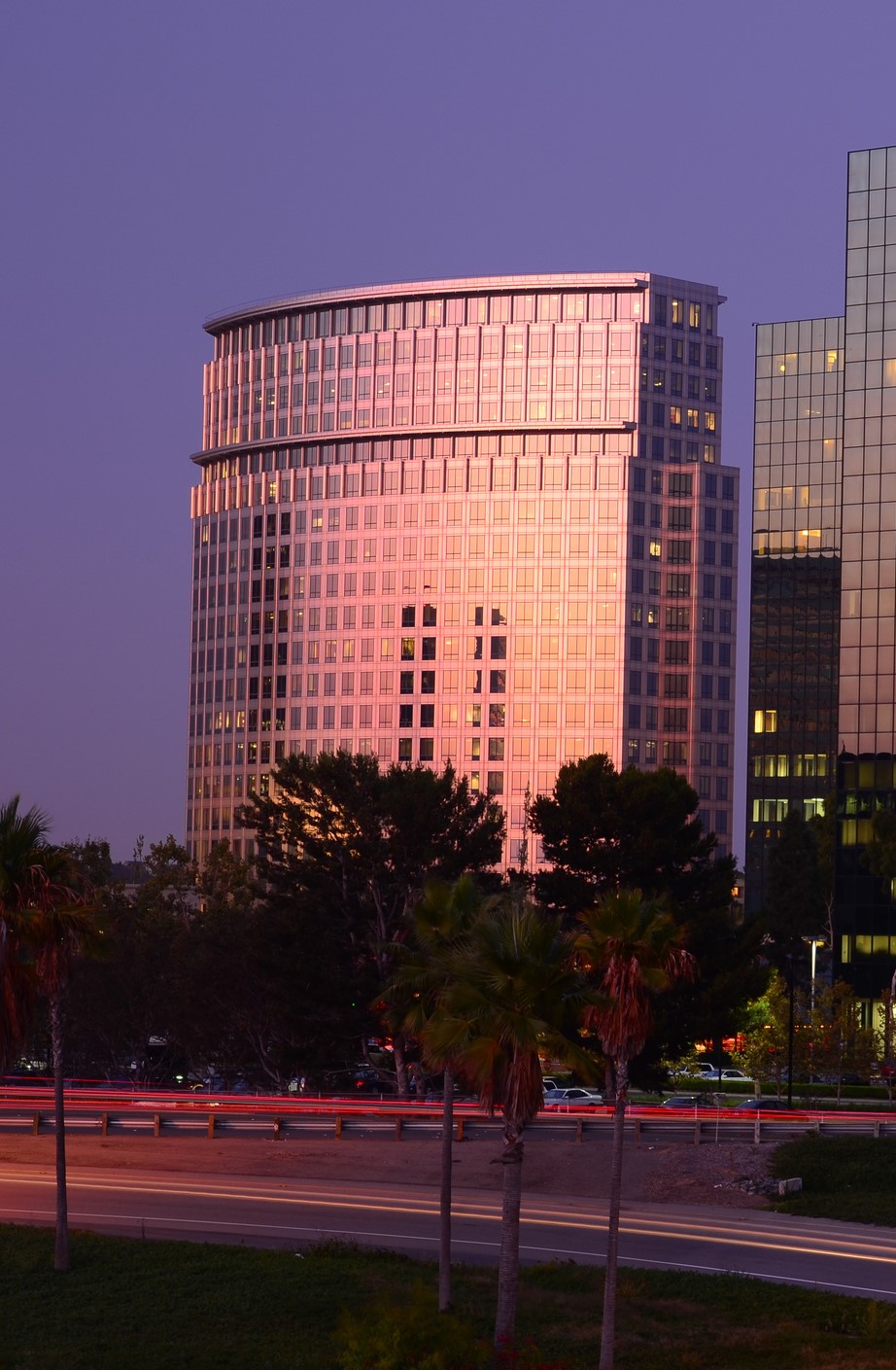 "Fortunately, a stretch-levelling machine at Outokumpu's Dillenburg plant was able to pull and stretch the plates simultaneously to avoid formation of waves or other variations and achieve the required level of flatness. This was a key element of the project's success. However, it required a high level of manual supervision and inspection from myself and Outokumpu's operators – we had to check every sheet from every angle. We ultimately supplied 200 tonnes of Supra 316L/4404 grade stainless steel with a Deco Linen finish for the project." 
Lutz Zoppke, Head of Production Team Quality and a 30-year veteran at the Dillenburg mill, comments: "The scale and dimensions of the Plaza Tower façade project were a first for us. However, it was a direction that we were keen to pursue, so we subsequently invested in a more sophisticated tension-leveling machine that increased our production capacity and quality. It can tension level a full coil in sections to get the required flatness for façade applications. Today, we use this machine to improve the flatness of all our façade material, but we also use it for other applications which have high flatness requirements." 
Linen finish for a gleaming exterior
Like many of César Pelli's designs, the gleaming finish was achieved by the process of bright annealing. This heat-treatment takes place in an oxygen-free furnace environment resulting in a scale-free surface which makes a pickling bath redundant, thereby preserving the shiny cold-rolled surface.
Jörn Teipel, Outokumpu's Lead Technical Manager for Architecture, explains: "The Deco Linen finish comprises a fine-textured surface pattern rolled into the sheets to resemble natural linen fabric. This diffuses reflections and reduces glare, helping the building blend with its environment, which was important to Pelli." 
The stainless steel contrasts nicely with glass and reinforces the impression of strength and durability. Many buildings, including the Plaza Tower, are coupled with the 316 grade which is suitable for all exterior façade applications not directly located in coastal environments. The symbioses of a beautiful surface finish on a durable stainless steel grade, ensures for the pristine condition of the Plaza Tower even after 30 years."
Udo Clages added that it's essential to choose the right alloy for the appropriate location. "When you have a building in a coastal city or a high-pollution area, it's important to use grade 316 or 316L, which are ideal for facades not only regarding the corrosion resistance but also from a fabrication point of view." 
Quality over everything 
The Deco Linen finish is produced by passing stainless steel with the technique of cold rolling, which uses rollers under pressure to emboss the pattern, and our technicians take care to replicate the same conditions for every batch. Consistency in color and appearance are the two most critical requirements for architectural façades. Too much variation between sheets could create a chessboard appearance that could impact the appearance. 
Lutz Zoppke says: "Over the years, we've developed our quality checks into a fine art. While we have computerized quality checks before a coil goes to the cutting line, we still find the human eye is the best measure. That's why we have two specialist operators to oversee the cold-rolling process. Following our standard operating procedure, they monitor for flatness, streaks, or any rolled-in or open defects. After that, we conduct similar stringent checks on the tension leveller."
Final inspections are often done together with the fabricator, architect, or contractor. Once the material is approved, the embossed sheets are then covered with a special UV-resistant film for protection against scratches and stains during the fabricator's forming process. This film is finally removed after the stainless steel is installed on site. 
Added sustainability 
With construction being responsible for nearly 40 percent of carbon dioxide emissions in 2020, architects face intense pressure to design more sustainable buildings – and stainless steel can help. It is 100 percent recyclable, and its durability means that it will provide a long life, minimizing the use of raw materials over the long term. Its corrosion resistance is also helpful as it gives architects some control over the long-term aesthetics of their projects. 
"The Plaza Tower is a shining example of durability," says Jörn Teipel. "It's still in excellent condition with no signs of wear or fading after 30 years. The Supra 316L grade provided the ideal level of corrosion resistance against the Los Angeles smog. The façade is certainly good enough for at least the next 30 years and beyond."
Today, architects can access environmental product declarations (EPDs). These provide independently certified data so that architects can calculate the carbon footprint of their buildings. 
Dawn of a new era
"The Plaza Tower project was a milestone contract for Outokumpu's cold rolling mill in Dillenburg, as it was their first large-scale contract for architectural façades," says Lutz Zoppke. "It also triggered our investment in 1995 in the tension leveler at Dillenburg, enabling more straightforward production of ultra-flat façade sheets. The machine can tension level the full coil, which means from thereon we could deliver the highest quality material much faster for all proceeding façade material projects." 
The project also directly led to Outokumpu winning the façade order for the 37-story Springleaf Tower in Singapore a few years later, the first of many to follow. Udo Clages adds: "The Plaza Tower project was a trigger point for making stainless steel a material of choice for architectural façades, particularly the Deco Linen finish.  Working closely with one of the world's most prominent architectural firms heralded a new era for us and for Outokumpu."
Since then, the steel producer has become the world leader in providing material for prestigious stainless steel façades.