Increasing urbanization is driving demand for healthy and vibrant city living. This starts with green environments and plenty of fresh air. Stainless is a sustainable material that contributes to making cities greener.
The idea of plants growing on city walls is catching on in many cities. These green surfaces not only offer a restful landscape for the eye, but also numerous other benefits such as cleaner air and a welcome cooling effect when temperatures rise. Even though green walls are not a new invention, they have seen a recent surge in popularity. In many pioneering cities, green walls already enhance the façades of museums, office buildings, and luxury hotels. The world's largest vertical garden is located in Chinese Taipei (Taiwan), spanning an area in excess of 2,500 square meters.
Quality of life
Lush and leafy walls clearly enhance the experience of city living, but the benefits go further.
Planted façades have a positive impact on the microclimate in urban environments as they generate oxygen and thus improve air quality. At the same time, vegetation helps even out temperature fluctuations: it insulates in winter and has a cooling effect in summer. Green walls also provide protection from the wind and the sun's UV rays. They also absorb sound and are sometimes even used for planting edible plants for city dwellers, another clever sustainability spin-off of this smart idea. And think of how little precious floor space the plants take up – even when they cover the entire façade of the building.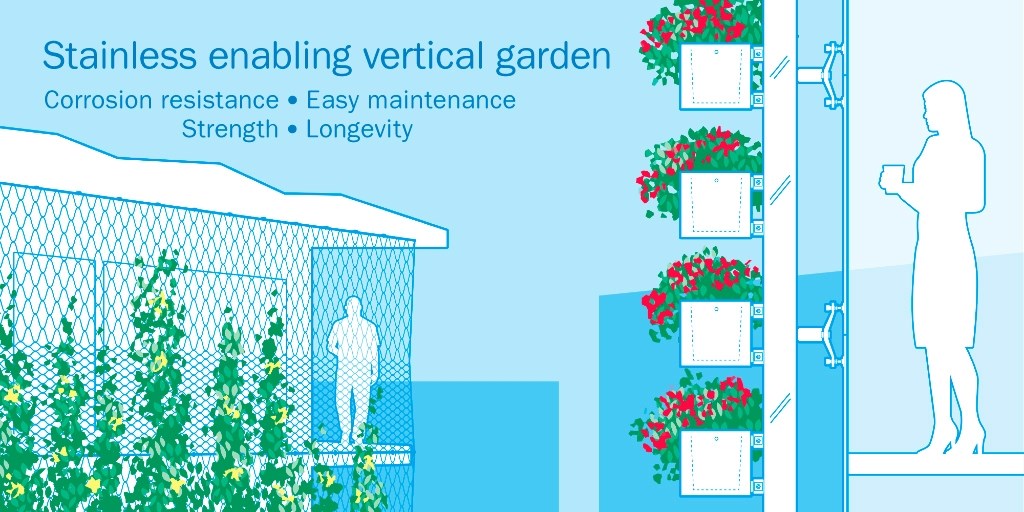 Sustainable support with stainless
Despite the relaxing appearance of a vertical garden, it places high stresses on the structures. Green plants covering an entire building façade require strong support. The most common solutions include tensile cable systems doubling as climbing support for the plants, with lattice frames and ventilated panels distributed across the façade. Stainless steel is the preferred material for sustainable green wall support structures, as they need to be easy to maintain, durable and resistant to harsh conditions.
Stainless offers strength, corrosion resistance and longevity in particular for the backing frame and other challenging areas. It also works perfectly in green roofs and in complex drainage systems for vertical gardens. In designing vertical gardens, due consideration has to be given to wind as well as to snow and ice loads, not forgetting the weight of the plants themselves. Some breathing space is always needed between the building and the plants to prevent them from damaging the structures with their penetrating roots and shoots.
Window to creativity
What is more, timeless stainless offers unlimited potential for creative designers. The versatile material can be bent into almost any shape – imagination is the only limit. Vertical gardens provide endless design options for creative architects, as they can easily be integrated into the design of modern buildings, both outdoors and indoors.
A variety of different plants can be planted on a wall, ranging from evergreens to a façade of changing seasonal colours, or a stunning mosaic of different shades of leafy green – the choice is yours. Wouldn't you enjoy walking to your office through a green, leafy walkway providing a calming contrast to the hectic pace of urban life?
Read more from Green Walls in Stainless Steel, Euro Inox, 2012.