The world's largest equine piece of art was a challenge to build. With almost one thousand individual stainless platelets, proficiency and precision was required to finishing this ambitious sculpture that outbraves the winds of Scotland.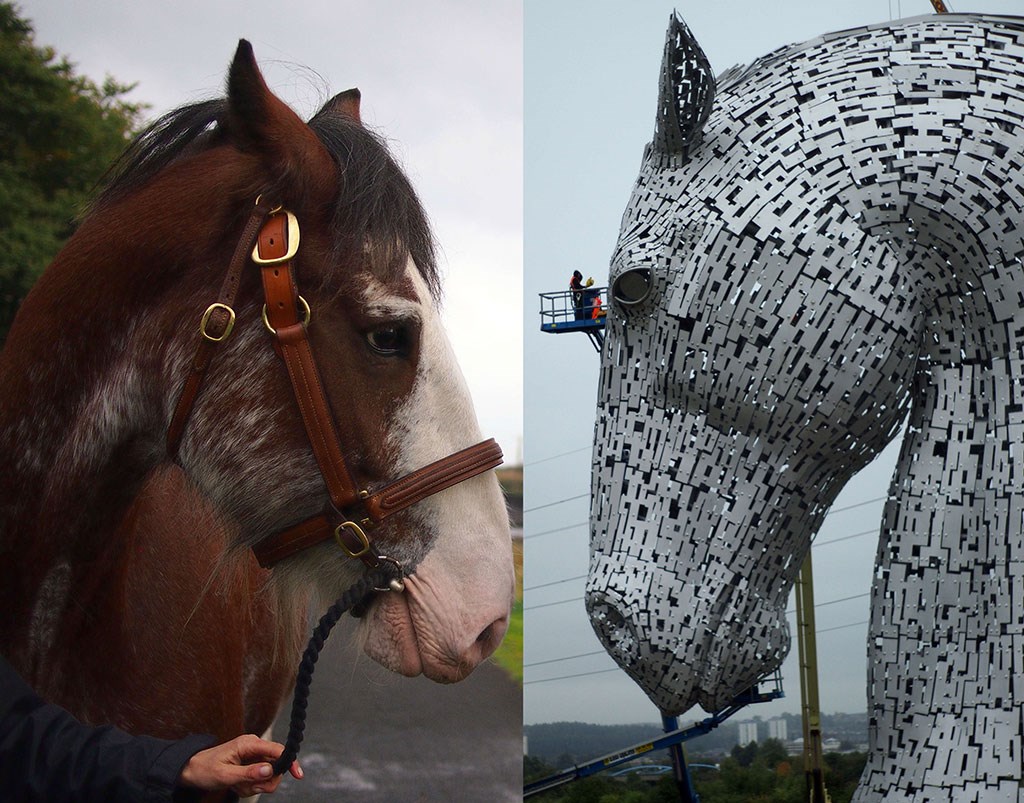 Two huge metallic horse heads overlook the Forth & Clyde Canal in central Scotland were completed in April 2014, forming the centerpiece of a recreational complex near Falkirk.
Designed by local sculptor Andy Scott, the two 30-metre-high horse heads are clad with more than 900 steel platelets manufactured, cut and processed by Outokumpu. Each of the giant gleaming heads weighs more than 300 tons.
Enormous equine engineering
Creating lasting outdoor artwork on such a massive scale represents an engineering challenge comparable to bridge building. Finding a suitable material for the metallic horse coats was a crucial part of this challenge. Scott's designs featured hundreds of separately profiled steel plates.
It was essential to find a steel grade that could withstand Scotland's often wet and windy weather – and not distract passing drivers by reflecting too much glare. The full size Kelpies were too big to galvanize, so the obvious choice was stainless steel.
Finding the optimal material
The design team's engineers promptly approached Outokumpu for advice, and Supra 316L stainless grade was picked as the perfect course for the horses. This grade met all structural and corrosion-resistance demands, while also looking aesthetically appealing even with a duller surface finish.
Soon Outokumpu was producing the first batches of profiled panel according to the demanding construction program. Each head consists of nearly 500 unique pieces of "skin", made from 6 millimeter thick platelets. Over 900 tailored platelets of stainless steel grade Supra 316L produced at Avesta, Sweden, and Tornio, Finland, were laser cut to size in Outokumpu's Service Center in Sheffield, UK.
Putting pieces together
Hundreds of carefully labelled and protected platelets were sent to SH Structures, who had the task of putting together the two giant horse-shaped 3D jigsaw puzzles. "We received deliveries from Outokumpu on a regular basis to meet our very tight build schedule. They consistently arrived on time and were clearly marked and covered with a protective film ready to be fitted to the support structure," says Dave Perry, Contracts Manager for SH Structures.
During the summer of 2013, passers-by could watch the two huge horse heads coming together next to the busy M9 motorway. Since the Helix Park opening in April 2014, the Kelpies are rapidly becoming one of Scotland's most photographed attractions. The engineering excellence has also been recognized with various awards. Outokumpu's input is clearly visible on these equine sculptures, which are inspired by mythical water horses and mighty workhorses.