Inspired by the structure of the DNA molecule, the pedestrian bridge embodies Singapore's aspirations as a biomedical hub. Comprising two delicate helix structures forming a tubular truss, the Helix is a spectacular example of timeless design.
Dynamic spatial experience
Described as an "architectural marvel and engineering feat" by CNN Travel when it was completed in 2010, the Helix completes a 3.5 kilometer pedestrian walkway around Marina Bay.
In daylight, the bridge's unusual canopy, formed of segmented panels of glass and perforated steel, creates a dynamic spatial experience. And at night, architectural lighting features showcase the surface finish and color of the bridge's stainless steel elements. Outward-facing lights accentuate sweeping structural curves, while those illuminating the internal canopy suggest a shimmering membrane and the pedestrian path in the inner helix is traced in white light. To create desired moods, all of the lighting can be programmed in a rainbow of hues.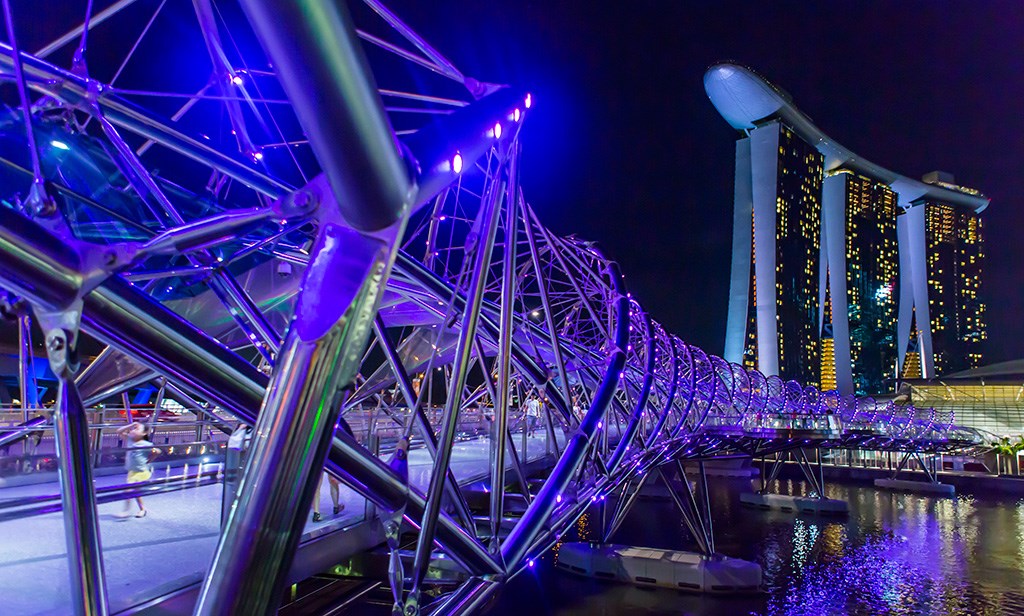 Designed for enduring beauty
Fabricated from more than 650 tonnes of high-strength Forta stainless steel provided by Outokumpu, the 280-meter bridge is supported by unusually light, tapered stainless steel columns filled with concrete. Because the groundbreaking design utilizes five times less steel than a conventional box girder bridge, stainless steel was chosen for the entire structure – delivering impressive longevity and sustainability, each a key project objective.
Forta duplex stainless steel is also known for its uncommon corrosion resistance, an important factor in Singapore's hot and humid maritime climate. "The Helix is truly an engineering marvel," says Dr. See Lin Ming, project leader for engineering firm Arup. "While the structure is incredibly delicate and intricate, it's been engineered to support more than 10,000 people at a time. The Helix is the first example of this structural solution applied to a bridge – there is nothing else like it."