Working towards a world that lasts forever
Outokumpu's vision is to become the best value creator in stainless steel by 2020 through customer orientation and efficiency. Every word on our vision counts – it spells out when, to whom, and how. It brings us back to basics – the efficiency by which we serve our customers, knowing what they need.
Outokumpu has set six must-win battles to reach the vision of becoming the best value creator in stainless steel. Safety is our number one priority: safety is our permit to operate – for personnel, customers, the environment – and disciplined safety practices correlate with improved quality and operational efficiency. Secondly, securing Outokumpu's position as the sustainability leader in the stainless industry helps to fight climate change and to create a competitive advantage versus competition. Operational excellence aims to deliver continuous improvement and step change in quality, supply chain and manufacturing. Commercial excellence focuses on margin growth through a superior product strategy that matches market demand with an optimal product mix. The Americas holds the biggest potential for profitability improvement, and here all the other must-win battles are being capitalized to improve the business area's cost and market position. Digital transformation drives for new digital business and manufacturing platforms and a major step-change towards data driven management.
Read more on our targets and outlook and financials.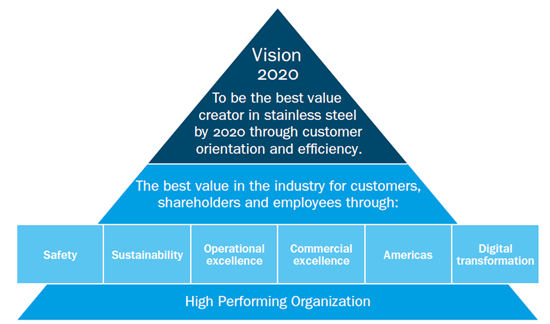 Our values
We are one company
We work for common goals as a unified team

We are passionate about success
We empower each other and improve every day to be the best in all areas we operate in

We get things done
We are fast in recognizing required action and in developing new solutions

We lead by example
We build trust and respect and foster diversity

We work in a sustainable way
We use our knowledge and resources to deliver long-lasting solutions for the benefit of our stakeholders and the environment
Global megatrends drive demand
Stainless steel is the answer to many challenges the world is now facing. Its demand is expected to grow by 23% between 2015–2020. Growth is mainly driven by few megatrends such as urbanization, mobility, economic and population growth and climate change. The need to find sustainable solutions that stand the test of time is tangible, as the megatrends raise concerns about economic, social and environmental sustainability.
For instance, by 2020, over a half of the world population will be living in cities. This means building infrastructure, the construction of higher buildings – which translates into elevators, washing machines, and sinks in stainless steel. With urbanization comes mobility – transporting goods and people in cars and in trains. One of the biggest challenges is ensuring sustainable development because of limited resources and climate change. We produce stainless steel, the most sustainable base material you can find. It is unlimited in its capability to be recycled, and the recycled content of our stainless steel is more than 85%. Read more on sustainability.
Latest market comments and outlook are given in our interim reports.