Bridges have played a very important role throughout history, serving to allow passage over obstacles such as valleys and bodies of water or in more modern times over roads and railways. The issue, though, is that almost all bridges, sooner or later, need costly and sometimes environmentally-damaging maintenance work.
A company in southern Sweden that works closely with Outokumpu has developed an interesting concept called the Environmental Bridge – which is basically maintenance-free and can have a lifetime lasting well over 100 years. Clearly this design offers a way to literally build bridges to a more sustainable and economical future. Stål & Rörmontage (SRM) has now installed six of these Environmental Bridges in Sweden, and interest is increasing.
"Miljöbron, as we call the Environmental Bridge in Swedish," says Lars-Åke Persson, Marketing Director at SRM, "offers very substantial benefits in terms of both the environment and public finances. To have a bridge that lasts much longer than traditional structures made of either carbon steel or wood, and has lower maintenance costs and lower environmental impact in terms of painting and coatings, is clearly beneficial to society."

Replaced 20-year old wooden bridge, with 120 years of no maintenance
The first Environmental Bridge that SRM installed was a pedestrian and cycle bridge going over the major E4 motorway in Södertälje, just south of the capital city Stockholm. The E4 is an incredibly important road since it is the only motorway leading to Stockholm from the south and it binds the city with the southern part of the country, and even further afield to the European continent.
In 2018, Södertälje municipality chose to invest in the Miljöbron, because it needed to replace a wooden bridge that had reached its end of life – after only 20 years of use. The city realized the many advantages of a long bridge service life and therefore selected the SRM solution based on Duplex stainless steel.
Through a better choice of materials, the municipality would save by avoiding expensive maintenance, and indirect road user costs, and thus minimize the environmental impact. Anytime you shut down a motorway it is very expensive in both financial as well as environmental costs. Traffic must go somewhere else, taking a longer route, emitting more CO2 and often presenting higher danger of traffic accidents since the vehicles are going through smaller roads not used to handling such flows.
Municipality looked further out in the future
The reason Södertälje bought the Duplex stainless steel Environmental Bridge is that SRM's CEO succeeded in convincing the city officials that it would last 120 years, versus 20 for the wooden bridge they were now replacing and perhaps 70 or 80 years for a carbon steel bridge, which frequently would need major costly repairs and repainting.
So it was a "Sustainability Argument" in the simplest sense of the term: The bridge would last longer with less need for repair or replacement, and with minimal impact on the environment, since stainless doesn't need repainting with potentially intrusive coatings and paints.
Duplex stainless steel was the perfect material choice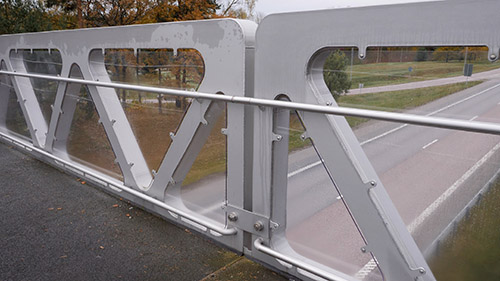 Peter Månsson, SRM's Quality Manager who also served as Project Manager for the Södertälje bridge installation, explains the project. "The bridge is actually made of two smaller segments, one 36 m long and the other 24 m long. They are slightly different in their design to make the most of the material and get the absolute lowest lifecycle cost of the structure. Incredibly, it took less time for us to install the new bridge than it did to dismantle the old wooden bridge which had only lasted 20 years. The new Duplex stainless steel Environmental Bridge will probably last 120 years or more, with little to no maintenance needed."
Månsson further comments that in his experience, wooden bridges and carbon steel bridges are quite okay as temporary solutions, if you're comfortable knowing they're not going to last a very long time. But if the aim is to get the lowest lifecycle cost, and the highest degree of sustainability, then stainless steel, especially Duplex is the answer. "The mechanical strength and corrosion resistance of Duplex steel from Outokumpu make it our first choice for a bridge like this."
Super smooth, and fast, installation
The installation in Södertälje ran like clockwork, taking only 5-6 days in total and only needing to shut down the important E4 motorway for a few hours very late at night on two nights. This highlights another key advantage the Duplex SS offers concerning the time needed to complete the installation, compared to a carbon steel bridge which must always be totally painted to reduce chances of rust getting a foothold.
Even if the carbon steel structures were coated when they left the factory, during installation they must be covered up again, because of nicks and scratches and exposed areas that develop in transport and during erection. "We could never have installed a carbon steel bridge in 5-6 days," says Månsson. "It would have taken much longer."
Getting the complete picture, not separate purchasing and maintenance objectives
The challenge that SRM faces when selling stainless steel bridges is that the people who buy the bridge are doing a job where they are required to spend as little money as possible to procure the specified item. Then, at a later stage, it is the maintenance people's responsibility to keep it in good and safe working order.
But the purchasers and the maintenance people are very often not working closely together, or at all, when the bridge material is specified. So it's understandable that the purchasers go for what they feel is the lowest cost solution, without taking the long term view of total lifetime cost.
And the fact is that although stainless steel is thought to be much more expensive than carbon steel for the initial purchase price, in reality it is only perhaps 20-40% higher. But when you add in all lifetime expenses to get a total cost of ownership and operation, a carbon steel bridge costs around 200% more than the stainless steel version.
"So," concludes Lars-Åke Persson, "if you look at the long-term financial and sustainability impacts, wooden or carbon steel bridges are worse on both of these critical points when you closely examine the long term performance. The accelerating pace at which we are getting orders for the Environmental Bridge is obviously convincing proof of our reasoning and our concept."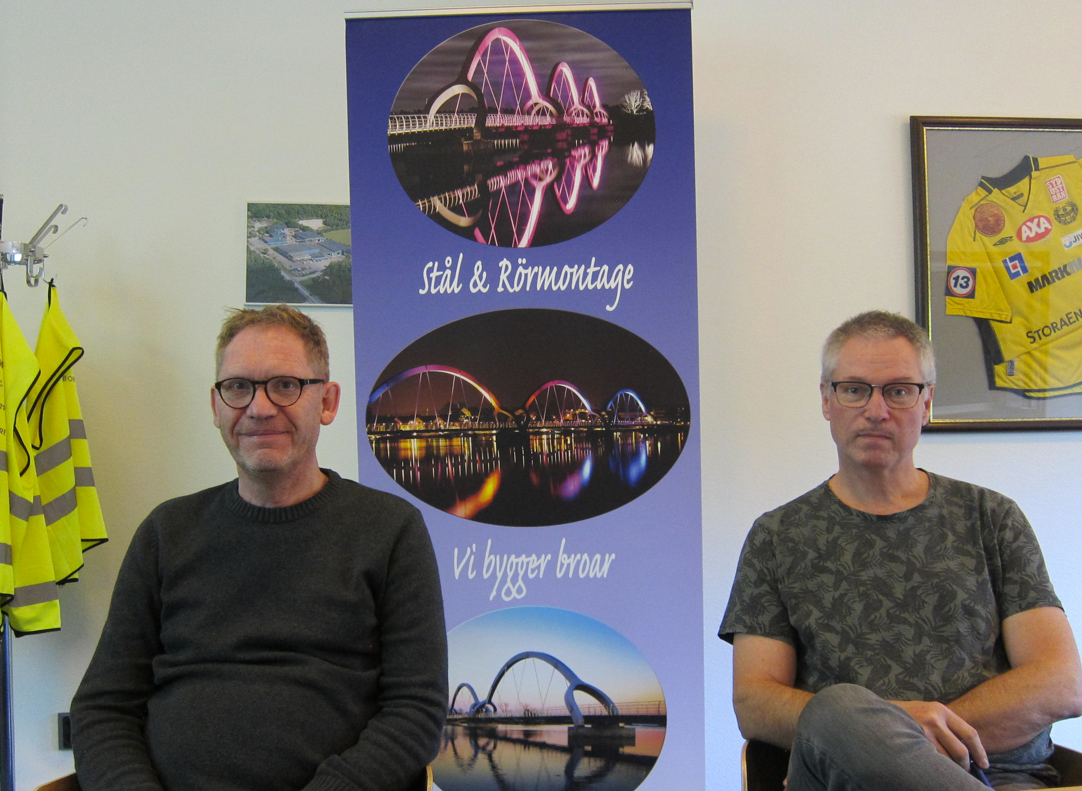 Lars-Åke Persson and Peter Månsson believe very strongly in the Environmental Bridge concept.
Read more about the benefits of stainless steel in bridge building