Building an offshore wind farm is a feat of human engineering, but building one in the North Sea takes this challenge to another level. In an environment where freezing temperatures, strong currents and corrosive sea spray are the norm, there is no room for failure. Under these extreme conditions, only the best materials are able to perform.
Outokumpu's duplex stainless steel will be used in the Merkur offshore wind farm, located 45 kilometers north of Borkum Island off the German coast of the North Sea. Rising 177 meters above water, its 66 wind turbines will have a total capacity of 396 megawatts. Once completed, in March 2019, this wind farm will be one of Germany's largest. It is expected to generate 1,750 gigawatt-hours per year, enough to cover the energy needs of about half a million homes.
Flexibility required
Industrial equipment suppliers Idesa and Windar Renovables, part of the same Spanish conglomerate, were commissioned to manufacture the transition pieces for the Merkur project. These pieces connect the monopile structure with the platform holding the wind turbines.
"Duplex will be used in special support parts that bear metal-on-metal contact, exposed to extremely high mechanical loads," says Sergio Altolaguirre, Sales Manager for Marine Energy Projects at Idesa.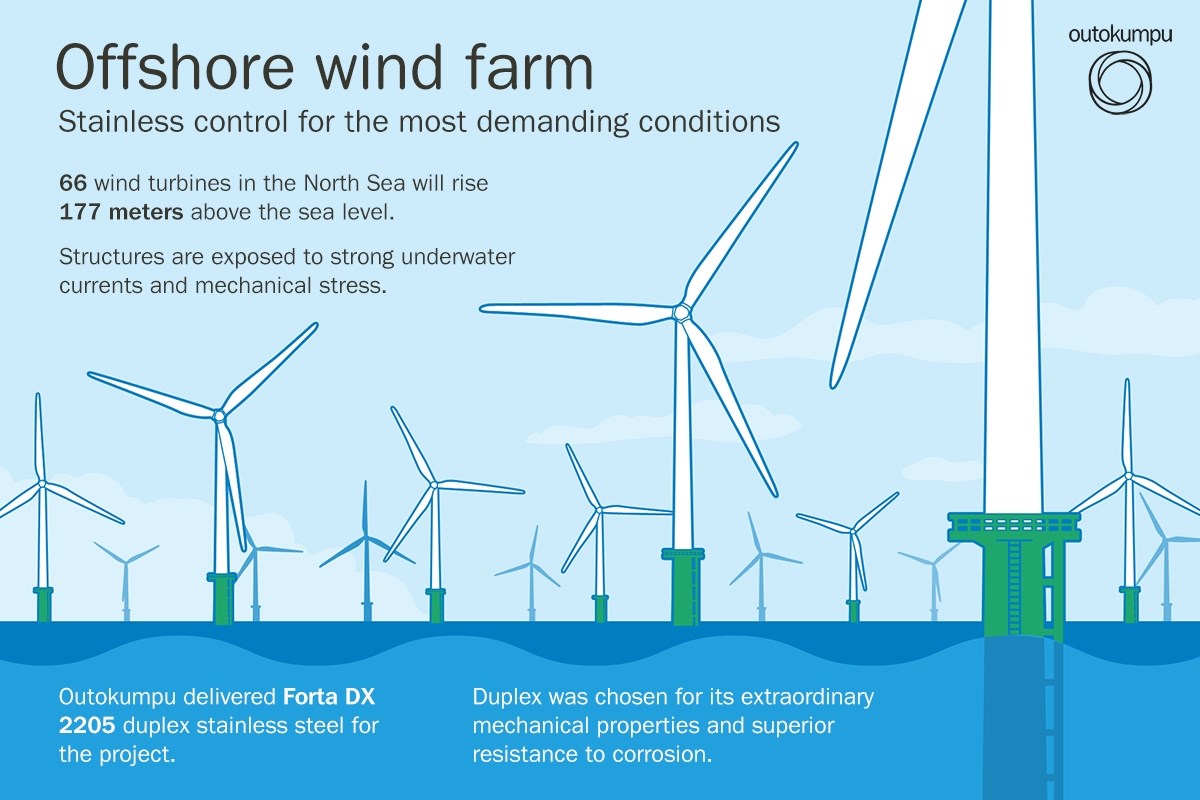 The engineering company requested the use of duplex stainless steel from the beginning, because of the reliability and control that only this material allows. "The choice of duplex relates to two reasons," explains Altolaguirre. "First, the project required a high resistance to corrosion. Second, the support parts required a material with a yield strength higher than 355 megapascals." For this purpose, Outokumpu delivered 40 metric tonnes of Forta DX 2205. "The grade offered and supplied by Outokumpu complies with both criteria," states Altolaguirre.
Outokumpu performance
"At Idesa and Windar we have a long relationship with Outokumpu, based on our close collaboration in previous projects," remarks Altolaguirre. "Outokumpu is part of our list of approved suppliers, which we update based on their performance," he explains. "Outokumpu is certainly one of our preferred options for stainless steel plates with special requirements."
This new project and application is a case in point demonstrating Outokumpu's capacity to respond to the growing demand for tailored components and solutions that require a careful selection of materials.