A series of long vertical stainless steel fins running up the exterior of the towers
When the government of Abu Dhabi commissioned architect Goettsch Partner (GP) to design a new financial center in 2008, it had high expectations. Completed in 2011, the complex became the centerpiece of Abu Dhabi's vision to shift towards a knowledge based economy. The government wanted a dramatic architectural statement with the highest levels of comfort, sustainability, and energy efficiency. This gave GP the challenge of creating an iconic design for a stock exchange building, office towers, a public plaza and retail facilities.
To achieve this, GP placed the stock exchange building on top of stone piers and designed the four surrounding office tower buildings to taper inwards to a small footprint at their base. This creates space for a public plaza at ground level and also provides drama, which GP enhanced with a series of long vertical stainless steel fins running up the exterior of the towers. These perimeter fins are an important feature. They define the structure of the towers, contrast with other materials and create a visual framework that is picked out by sunlight during the day and by feature lighting at night. To deliver the fins, GP's specialist façade contractor, Jangho Beijing Curtain Wall Ltd, specified 400 tonnes of Supra 316L/4404 grade stainless steel with a Deco Linen finish. It was delivered to local UAE fabricator Folcra Beach for cutting and forming into shape. 
Linen finish for homogeneous appearance
Jörn Teipel, Outokumpu's Lead Technical Manager – Architecture, said: "
Outokumpu's Deco Linen finish has a textured surface inspired by natural linen fabric. This is embossed into the surface of the sheets to give a homogeneous appearance and also keep the metallic look. The stainless steel contrasts well with glass and provides the impression of strength and durability. 
"From a distance, the linen texture is not visible to the naked eye but helps to reduce glare and reflect its surroundings in a diffuse way – for example, a tree would be reflected as a greenish patch. This connects the building with its environment."

The challenge of consistent quality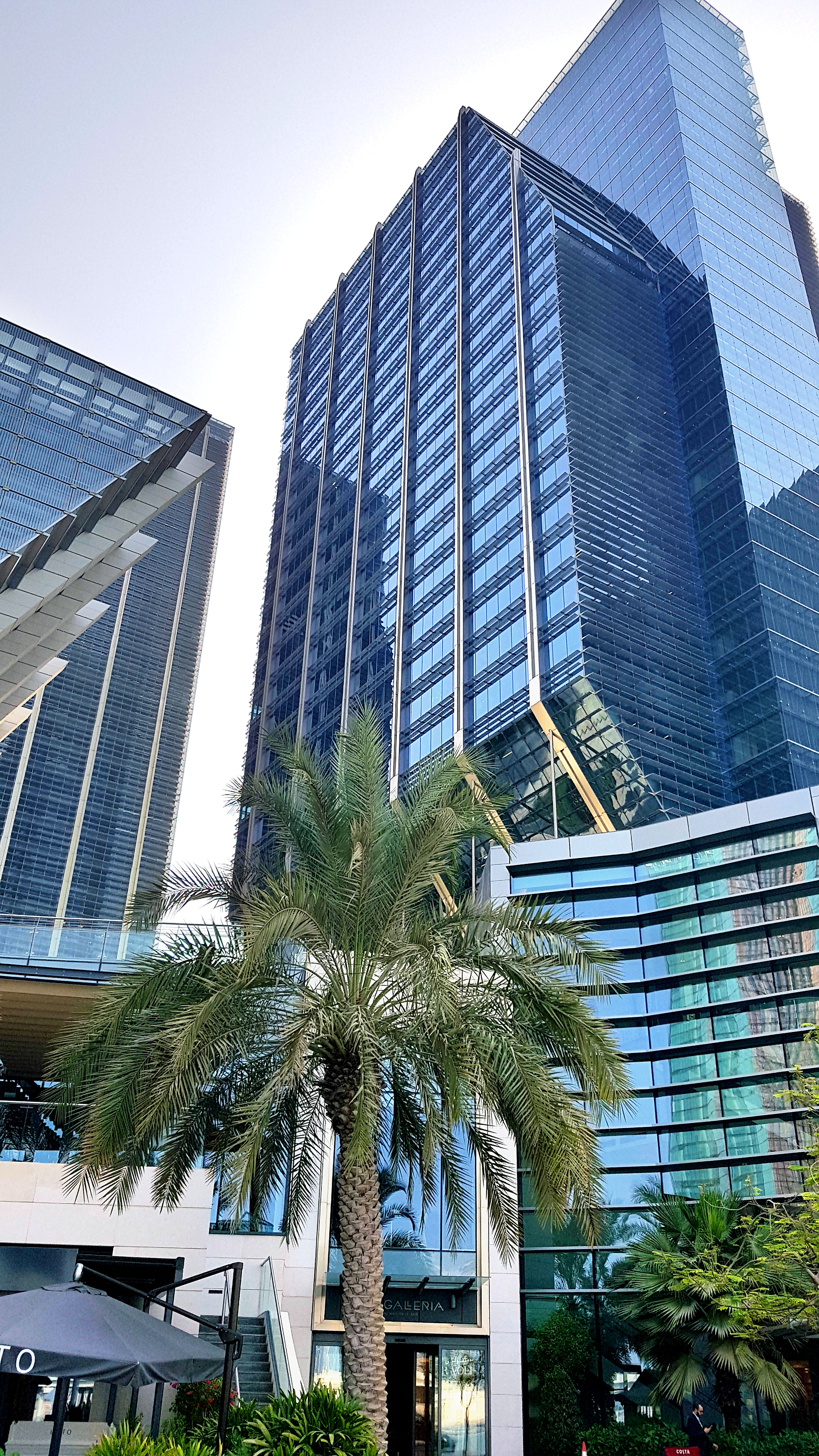 The scale of architectural facade material makes it extremely demanding during production. Too much variation in color and appearance between sheets could create an undesirable chequerboard finish that may need to be taken down and replaced. 
Many variables in the rolling mill can influence color. Therefore, the biggest challenge for a steel mill delivering hundreds of tonnes of material for an iconic development is to ensure consistent quality of the finish. 
Jörn Teipel added: "We produce stainless steel sheet for architecture at our specialist mill in Dillenburg, Germany. Our team has the knowledge and skills to produce embossed sheets for large architectural facades."   
Sustainability
Another important factor in the selection of our stainless steel was sustainability. The Sowwah Center was Abu Dhabi's first development to be pre-selected as LEED-CS Gold rated and sustainability was central to the government's vision. 
Stainless steel is the most recycled material in the world. It is 100 percent recyclable, is durable and provides a long life, all of which are helpful for sustainability credentials. 
However, Outokumpu's stainless steel provides a further sustainability advantage for architects and developers. Our material contains 85 percent recycled content, the highest proportion on the market. Not only does this conserve raw materials but it also saves energy – according to the Fraunhofer Institut, every tonne of austenitic scrap in stainless steel production saves 4.3 tonnes of CO
2. 
In addition, because Outokumpu has published Environmental Product Declarations and LEED fact sheets, developers can calculate the carbon dioxide emissions embedded in their facades. Teipel commented: "Architects and fabricators specifying cladding material from Outokumpu receive the most sustainably produced stainless steel as we have the highest recycled content in our stainless steel and the lowest carbon footprint."
Why Supra 316L (1.4404) 
Supra 316L provided the ideal level of corrosion resistance for the budget. It is well-suited to facade and curtain wall projects. In this case, though, the center is built on an island; and is a marine site. 

While a grade with a higher corrosion resistance might have been considered, the site is sheltered from the open sea by outlying islands – meaning that there are no breaking waves or saline aerosols. In addition, the buildings are cleaned regularly, ensuring that any residues are removed and minimizing the likelihood of contamination. 

In the long term, its corrosion resistance will provide durability, saving costs and resources over the building's lifetime. The best-known example of durability is the Chrysler building in New York City. Its famous stainless steel top has remained pristine throughout the building's 90-year history. 

Stainless steel also has a safety advantage for tall buildings. It is fire-resistant and has no coatings that could emit fumes, protecting people and property.  
Growing trend for stainless steel in architecture
After its completion, the Sowwah Center was named as the Best Tall Building Award for Middle East & Africa in 2013 by the Council on Tall Buildings and Urban Habitat (CTBUH). 
However, perhaps the most notable aspect of the Sowwah Center was that it was the first of many contracts with Goettsch Partners Architects. According to Sabine Johänntges, Project Sales Manager for architecture and building, the center's success has attracted follow-on projects from other architects in the Middle East and beyond.  
She said: "The Sowwah Center was the first of many prestigious projects for us. Since its completion, we have supplied material for other high-profile projects like 3 World Trade Center in New York by Rogers Stirk Harbour + Partners, China Resources Center in Shenzhen by KPF, 7 Bryant Park in New York by Pei Cobb Freed & Partners or Strong Food Headquarters in Shenzhen by AECOM and many more. 
Our work on the Sowwah Center also led us winning a contract to deliver 1,700 tonnes of stainless steel for the Ping An Finance Center in China, when Jangho's Middle East office connected us with their team in China. More recently, we have also worked with Folcra Beach again on The Address Sky View Towers project in Dubai."

Future is bright for stainless steel
This growing number of projects is part of a growing trend for stainless steel in buildings. 
Johänntges added: "In the decade before 2000, we supplied stainless steel for around five tall buildings. That number more than doubled within five years and has now increased to more than 10 projects per year. In addition, we also supply more than 3,000 tonnes of sheet with our Deco finish for other segments like interiors and elevators."
With its growing popularity, Outokumpu has been able to extend the range. Teipel concludes: "Since the Sowwah Center was completed, we now have more options for embossed decorative finishes. For example, we have a linen texture without a thread, as well as Deco Vertical Linen, where the thread is rotated by 90° to suit cladding that will run vertically." 
Looking ahead, its aesthetic appeal, durability and sustainability means that stainless steel has a bright future in architecture.