Buses
Stainless steel for buses and coaches
The global bus and coach industry is in a period of profound change. Download our new article to learn how stainless steels help solve some of the key design challenges in bus frames, including how to achieve over 1,000 kg weight savings while remaining cost-competitive. See below.
Stainless steel for next generation bus designs
Outokumpu stainless steels help designers to create buses and coaches with reduced weight, less maintenance, longer lifetime, improved CO2 footprint and increased safety for passengers. From frame structures and sidewalls to battery housings and electric engines for state-of-the-art electric buses, our stainless steels have the features to enable all this. We offer a variety of grades in plate and sheet, coil, strip and precision strip. Our stainless steels for bus manufacturing include the latest purpose-designed fully austenitic ultra-high strength stainless steels, as well as lean duplex and ferritic grades to meet the specific needs of our customers.
Applications and benefits of stainless steel for buses
Applications
Sidewalls
Frame structures
Seat structures
Battery housings
Electric engines
Crash safety relevant components
Trim elements, small parts and accessories
Benefits
Reduced weight
Less maintenance
Longer vehicle lifetime
Lower lifecycle cost
Better heat resistance
Improved CO2 footprint
Increased safety for passengers
Why choose stainless steel?
It's strong and lightweight
High-strength stainless steel grades developed by Outokumpu provide outstanding yield strength and energy absorption characteristics. This helps design lighter and smaller structures that still meet rigorous safety standards.
High strength of stainless steels make it possible to reduce the weight e.g. in tubular frame bus structures. Test programs have shown, that by replacing S355 grade carbon steel with duplex and ferritic stainless steels in a standard coach body, it is possible to reduce the all-up weight by around 500 kg. Outokumpu's fully austenitic nickel-free Forta H-Series offers even greater weight-saving potential with over 1,000 kg. For more information and details, please download the article "Seven reasons to put stainless steel in the frame for buses".
It's cost-efficient
There is a perception that stainless steel is an expensive material to use in comparison with traditional carbon steel. That is why it is currently used in only a small percentage of buses. The reality is that making the switch to stainless steel allows designers to create safer and lighter buses while staying cost-competitive and there is very significant potential for it to be used much more widely.
When selecting a material for a bus structure, it is important to go beyond its initial purchase cost and to consider the wider implications on the total cost throughout the life of the bus. A switch to stainless steel could reduce the total life-cycle cost of a bus frame by 12% according to an analysis by International Stainless Steel Forum, see Figure 1.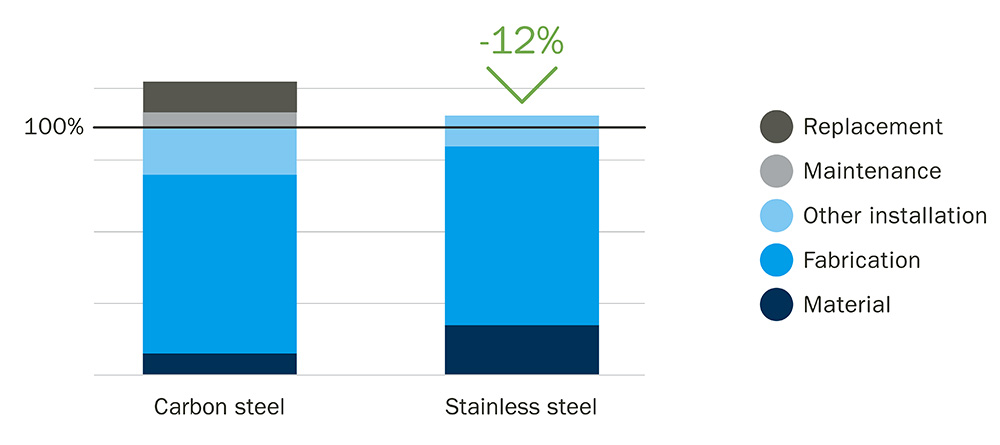 Figure. 1. A switch to stainless steel could reduce the total LCC of a bus frame by 12% (ISSF, webinar 2021).
It's sustainable
Stainless steel is the ultimate sustainable material. It is produced using a high level of scrap. As one example, Outokumpu uses over 85% scrap; the highest proportion of recycled content on the market. And at the end of its life, stainless steel is 100% recyclable.
The high durability and corrosion resistance of stainless steel means it has a much longer lifetime than carbon steel and requires much less maintenance. Furthermore, using high-strength stainless steel can reduce the overall weight of the vehicle, helping to lower energy consumption and emission levels.