Since our founding days, Outokumpu has been considered the number one expert in minerals. Whenever a mineral ore was found in Finland, Outokumpu was asked to investigate if it would be viable for production. If there was no established method of producing it, we developed one. This expertise is still in the core of our business. Today, we are the global leader in stainless steel.
1910s–1920s: From mysterious hill to a copper mining and refining
The start of Outokumpu was the discovery of a rich 
copper ore deposit (a 'strange hill' or mound, 'outo kumpu' in Finnish) in a county called Kuusjärvi in Eastern Finland in 1910. A few years later, copper production started, first through a company owned by the Finnish state together with private parties and then as a wholly-owned state enterprise. The first company was called Outokumpu Kopparverk (Outokumpu Copper Mill) and it was established in 1914.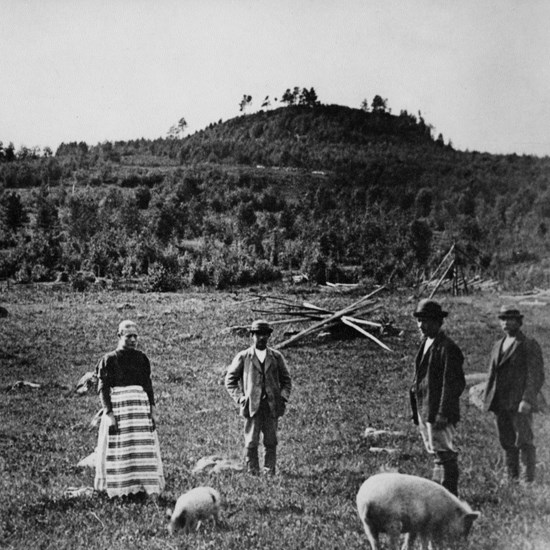 Outokumpu, literally "strange mound", in 1899 before the start of mining operations. 
In the first years, we smelted and refined copper in a small copper works right next to the mine. Even from the beginning there was enough copper for export as well. World War I, disagreements between the owners, financial difficulties and limited capital slowed down the start of operations. Nevertheless, by the late 1920s, the mine had been expanded into a modern mass production facility. The first copper smelter was closed in 1929 as Outokumpu was drafting plans for an integrated copper chain.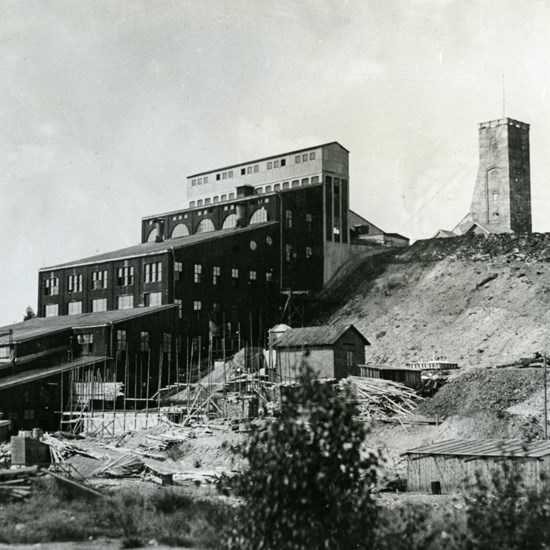 First modern mass production facility was built on the Outokumpu hill 1928. 
1930s–1940s: Major copper producer
By the 1930's, Outokumpu had become a major producer of copper and an exporter of copper ore. It was now obvious that a private ownership would suit for the development of the business better than state ownership, and so, in 1932, Outokumpu became a limited company. In the beginning, the government still owned the majority of the company's shares. Expansion followed rapidly after the change into a private company: we were one of the five major copper producers in Europe and began now expanding into downstream production – electrolytic copper, bar, wire, sheet and tubing. Fast industrialization in Finland boosted our operations. Outokumpu built an integrated copper chain in the 1930s by opening six new plants, including a new electric smelting plant in Imatra – the largest of its kind in the world at that time – and a copper refinery in Pori on the western coast.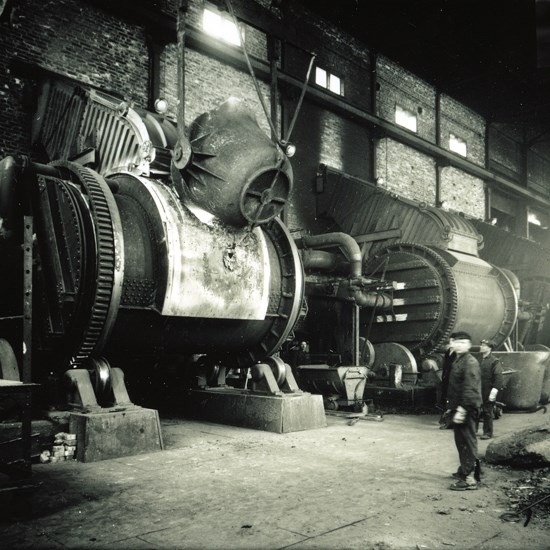 Our melt shop operations in the 1940s. 
In the 1940s, Outokumpu, like Finland, was facing World War II. As Imatra was close to the eastern border, Outokumpu dismantled the entire smelter from the path of advancing Russian military forces as it was Finland's only source of copper, moved it to safety at Harjavalta and had it up and running within six months. Nor did we simply move it but doubled the plant's capacity. However, in Imatra we had been able to utilize hydroelectric power, which was not case in Harjavalta. Electricity prices skyrocketed as Finland had lost capacity in the war. To solve this, our metallurgists came up with autogenous smelting. It uses the natural heat of reaction between iron and copper sulfides to bring the ore concentrate up to a smelting temperature. Only a few years later, "flash smelting" technology as it became known, was in production. It was the start of the Outokumpu's technology division. At the same time the company acquired ore deposits – copper, nickel and gold.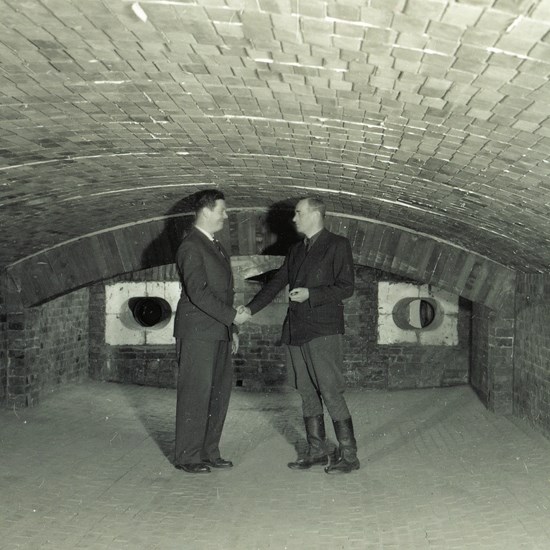 The fathers of the flash smelting technology, Petri Bryk (left) and John Ryselin. 
1950s–1960s: Expanding into technology and other metals
By 1950, we were one of Europe's leading mining companies. In the 1950s and 1960s Outokumpu opened new nickel, zinc and copper mines and cobalt works in Finland and developed into a multi-metal company, refining ores from its own mines. Thus, our business evolved from simple mining to the complex operations of metallurgical processing. It took innovation and determined R&D efforts to refine low-grade ores. Increased mining meant increased sales: starting from 1950, the Outokumpu net sales increased tenfold by 1980. The 1950s saw also the beginning of the sales of technology when in 1956, the first flash smelter under Outokumpu license began operation in Japan.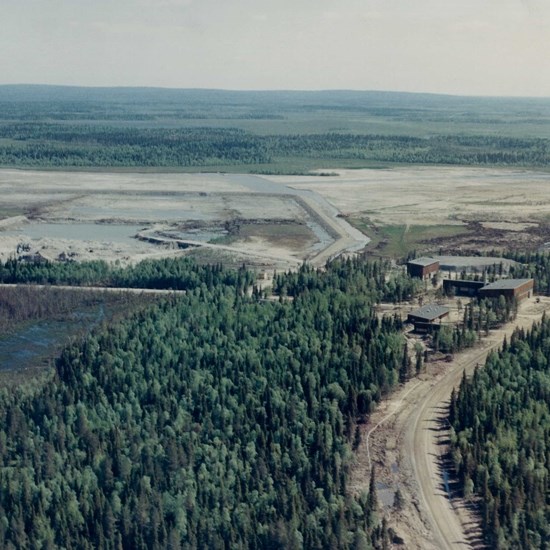 Kemi mine in 1967. 
Outokumpu moved to find new uses for its growing nickel production, when chromium ore was found by Finnish diver Martti Matilainen in a channel in Kemi in Northern Finland in 1959. We began to exploit the chrome deposit in Kemi in 1960 and built a ferrochrome smelter in nearby Tornio, where ferrochrome production began in 1968. Since chromium is what makes steel stainless and nickel makes it durable, the company now had access to the key raw materials of stainless steel. Feasibility studies were begun already in 1960.
1970s–1980s: Multi-metal mining and technology company
In 1976, we melted the first batch of stainless steel in Tornio which used the latest production technologies in the field. The facility was one of the most efficient stainless steel factories in the world and the only one to be backward integrated, with our own chrome mine in the neighboring town of Kemi and ferrochrome operations on the same site. At first Tornio produced 50,000 tonnes of stainless steel per year, which constituted Outokumpu's entire capacity in stainless steel. Later hot- and cold-rolling mills completed the integrated mill and allowed us to expand our product portfolio in stainless steel.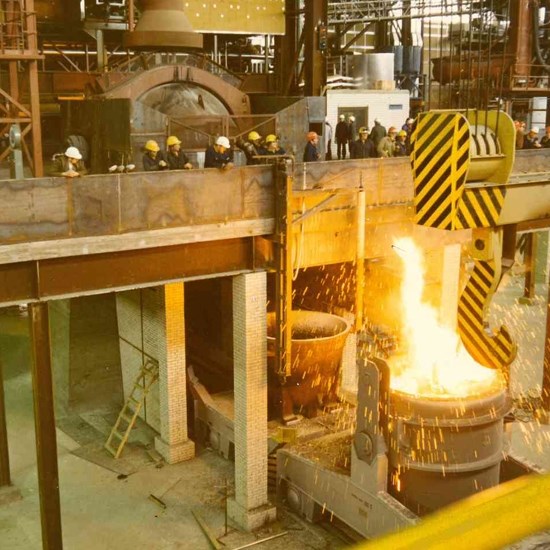 First cast at our Tornio melt shop in May 1976.
Until the 1970s, our mills had been dependent on our own mines. By then we had begun to exhaust our ore resources in Finland. The answer therefore was international expansion, first by sourcing metal from the international market and then in the 1980s through new ore deposits and acquisitions abroad, such as the Tara zinc mine in Ireland, the Viscaria copper mine in Sweden and semi-product facilities in Spain, Sweden and USA. We also sold our technical know-how, accumulated and developed at our own mines and mills, to other producers, including flash smelting, ferrochrome refining technology and metal detectors. In the 1980s, for example, a significant number of the copper and ferrochrome smelting plants worldwide used technology developed by us. The Group became a publicly listed company – Outokumpu Oyj – when its shares were listed on the Helsinki stock exchange in 1988.
1990s–2000s: Focus on stainless steel
In the 1990s, our business divisions were base metals, copper, stainless steel and technology. The investment to double Tornio's stainless steel production was ready for operations in 1991 but only a few years later the company was considering doubling its stainless steel production again. It was the most profitable of our businesses, and the demand for stainless steel was growing faster than that of other metals. In 1997, the management first considered that the company should focus on stainless steel. The question was whether Outokumpu should continue alone or combine its forces with a competitor.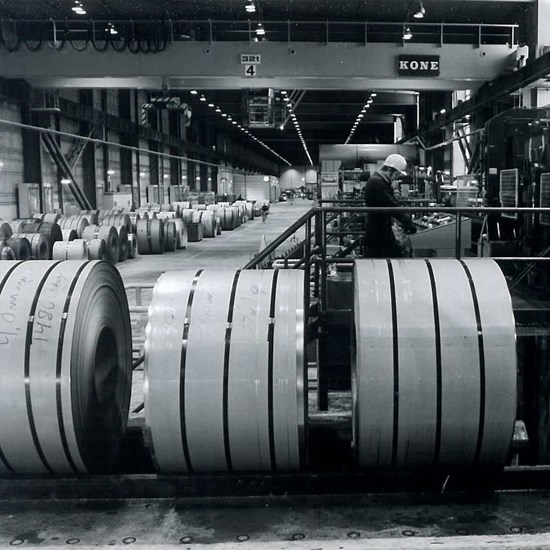 Coils at the Tornio cold rolling mill in the 1970s. 
At the turn of the millennium, we were a multi-metal and mining company with a global raw material base and 21,000 professionals around the world. In 2001, we announced, together with the renowned stainless steel company Avesta Sheffield, the combination of our stainless steel operations under the name of AvestaPolarit. Avesta Sheffield comprised traditional stainless steel production in Sweden and the UK. With the deal, we became the second largest stainless steel producer in the world with a annual capacity of 1.8 million tonnes. Slightly ahead of us was also the newly combined German ThyssenKrupp, created by Thyssen and Krupp. It was a turning point: in 2004 we decided to focus on stainless steel to become the global leader in this industry. Accordingly, Outokumpu exited from other metals, mining and technology in the 2000s and 2010s.
2010s: New global leader in stainless steel
In 2012, we acquired of Inoxum GmbH, the stainless steel operations of ThyssenKrupp. Only seven years had passed since the decision to drop other metals, mining and technology and to focus in stainless steel.
When we began to produce stainless steel, there were 21 stainless steel operators in Europe. After Outokumpu acquired Inoxum, there were basically only three major players – Outokumpu, Acerinox and Aperam. Outokumpu boasts the widest product portfolio in the market, state-of-the-art and modern mills, our own unique source of chrome and 100 years of expertise in metals, technology and mining.
Sources: 
Kuisma, Markku: A History of Outokumpu. Gummerus Kirjapaino Oy, Jyväskylä 1989. Publisher Outokumpu Oy. ISBN 952-9507-00-3.
Särkikoski, Tuomo: Outo malmi – jalo teräs. Outokummun tie ruostumattomaan teräkseen. Gummerus Kirjapaino Oy, Jyväskylä 2005. Publishers Outokumpu Oyj (ISBN 952-9507-10-10) and History of Technology in Finland (ISSN 1456-7415).