Stainless steel is the key building block for a sustainable future. In order to strengthen this belief, Outokumpu incorporates the United Nations' (UN) Sustainable Development Goals into its business in a way that stays true to the company's core identity.
In autumn 2015, the UN set 17 Sustainable Development Goals (SDGs) to be met by 2030. These goals tackle a variety of issues that are of crucial importance to the future of this planet, such as climate change mitigation, the protection of ecosystems and ensuring the availability of clean drinking water. The SDGs encompass sustainability challenges for both developing and industrialized regions of the world.
Global issues shape business
As the global leader of high performance stainless steel, Outokumpu is already aligned to achieve these goals. Stainless steel is the world's most recyclable material, an indispensable material in industries such as solar power, green construction and low-carbon transportation. Sustainability is firmly integrated into Outokumpu's business operations, from including the highest proportion of recycled content on the market in its products to keeping its supply chain pristine. The company proactively contributes to the implementation of this agenda through its industrial solutions.
"In some areas, such as responsible consumption and production and climate action, our processes directly help in the realization of the Sustainable Development Goals," explains Dr. Verena Schulz-Klemp, Director of Sustainability and Environment at Outokumpu. For example, energy is the dominant contributor to climate change, accounting for around 60% of total global greenhouse gas emissions. Outokumpu's approach to energy efficiency is long-term, and the target is a continuous improvement of a 1% reduction yearly.
Schulz-Klemp adds there are also indirect contributions – from end products made out of their material. For example, more than 1 billion people still do not have access to fresh water. Outokumpu's special stainless grades are resistant to salt water, making the material an absolute necessity for desalination processes to work. Using Outokumpu's stainless places the goal of ensuring the availability and sustainable management of water and sanitation for all within closer reach.
Collaborative partnership
While the time frame to reach the goals is certainly challenging, Schulz-Klemp is confident that Outokumpu, with its expertise in stainless steel manufacturing, will pursue its ambitious sustainability goals along with its partners and customers around the world.
"Fifteen years is a manageable period. Demands for sustainability-based actions grow alongside rising global challenges such as water scarcity, reducing the carbon intensity of energy, and rapid urbanization. This is a competitive advantage for companies whose products facilitate sustainability; it means that conditions for sustainable business to also be profitable business improve as well," says Schulz-Klemp.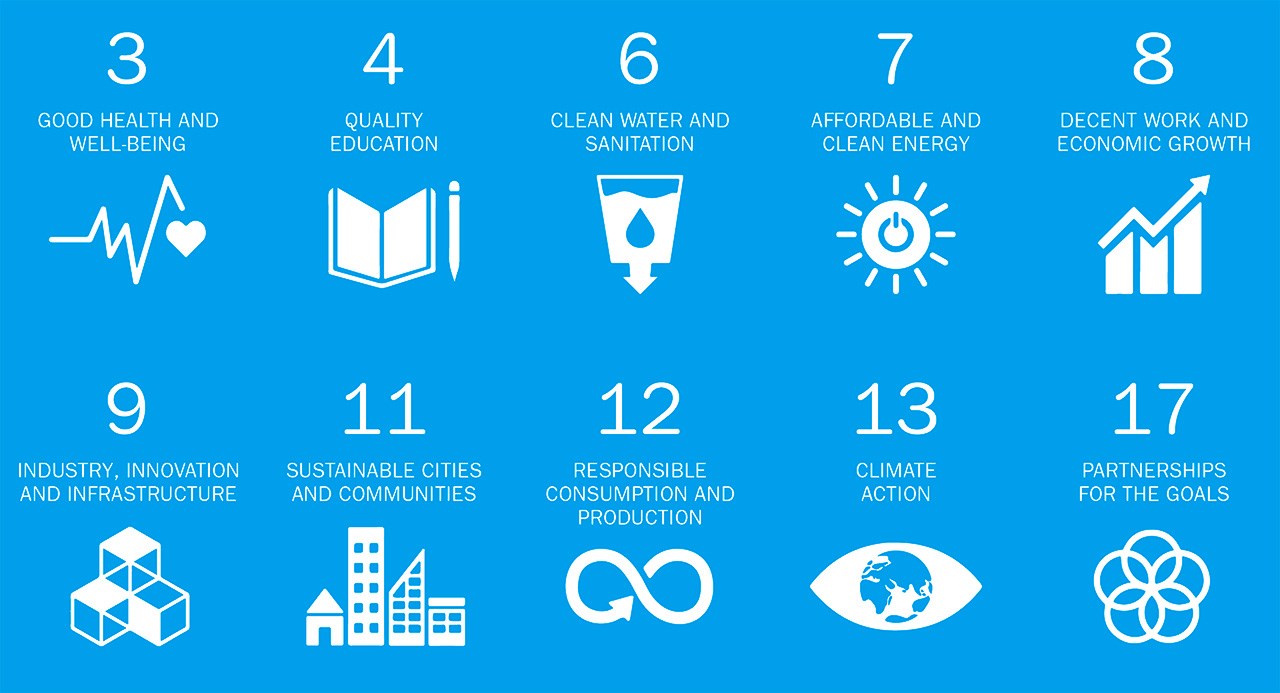 Outokumpu's key contributions to the SDGs
Outokumpu's strengths and actions that meet the United Nations' 2030 Agenda for planet, people and prosperity also create sustainable value for its customers. By selecting Outokumpu's stainless steel, customers benefit from the company's merits in their own sustainability efforts.
Goal 3. Good health and wellbeing. Outokumpu's stainless is an indispensable component for medical devices and implants and is chosen for its hygienic qualities. Its inert behavior supports food safety in food contact uses.
Goal 4. Quality education. Outokumpu provides life-long learning for its employees and is in constant dialogue with schools and universities.
Goal 6. Clean water and sanitation. Outokumpu's special stainless grades resist salt water, enabling salt water to be turned into clean drinking water in water treatment plants.
Goal 7. Affordable and clean energy. Outokumpu's materials are used in low carbon power generation sources such as wind turbines and nuclear power plants. Stainless and high-alloy steel is used for the desulfurization equipment of waste gas from conventional power plants. Properties such as high-temperature strength, durability and resistance to corrosion make stainless steel the most suitable raw material to use in certain cases.
Goal 8. Decent work and economic growth. Outokumpu's number one priority is a safe working environment for its employees and contractors. The ultimate goal for Outokumpu is zero accidents, with an underlying management philosophy to continuously improve safety practices. As its production sites are often located in relatively small cities or towns, Outokumpu is significant to the economies of these communities.
Goal 9. Industry innovation and infrastructure. Stainless steel was invented by Outokumpu in 1912. With over one century of innovation and know-how, Outokumpu has the best expertise in the industry in developing new stainless grades that best fit their specific uses, such as stainless for trains that combines low weight with high safety.
Goal 11. Sustainable cities and communities. Using Outokumpu's stainless steel in buildings makes them long-lasting and low maintenance. It pays for itself in the long term thanks to its durability, strength, low weight and resistance to corrosion.
Goal 12. Responsible consumption and production. Resource efficiency is Outokumpu's main driver: its stainless has 100% recyclability and contains 87% recycled content. Stainless makes for long-lasting products.
Goal 13. Climate action. Outokumpu contributes to climate protection with a specific target to reduce its carbon footprint by 20% by 2020. Outokumpu will achieve this through energy and material efficiency projects; yield improvement, with targets for right-first-time production; and optimization of capacity.
Goal 17. Partnerships for the goals. Outokumpu contributed a core business example concerning corporate action related to the sustainability goals to the Sustainable Development Goal Industry Matrix. Each matrix highlights bold pursuits and decisions made by diverse companies for each goal and participates in different national and international exchange panels. Outokumpu actively seeks sustainable suppliers and contractors, who must satisfy stringent sustainability requirements.