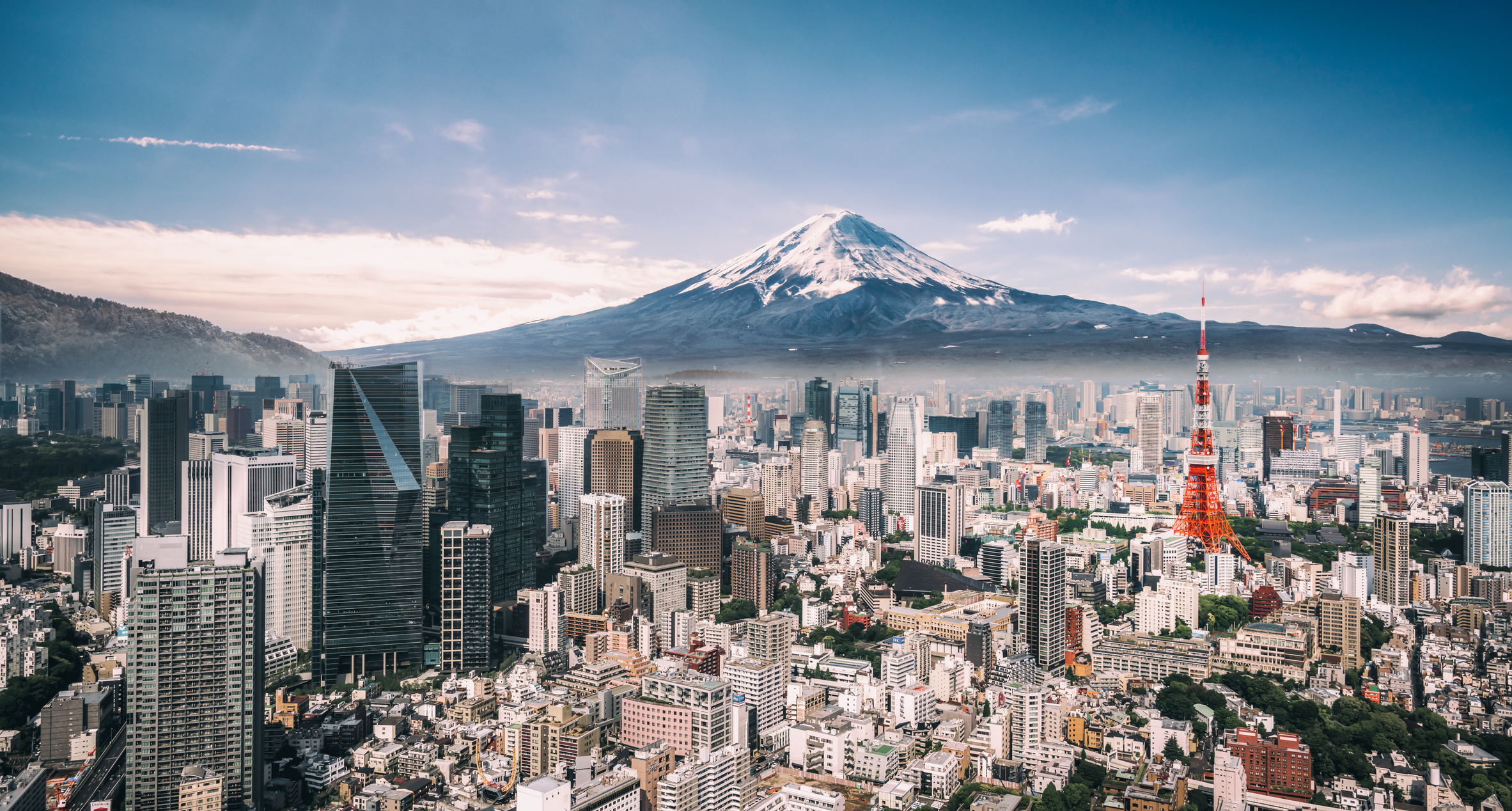 The Tokyo Water Board draws water from the Tone, Arakawa, and Tama rivers, but since Tokyo is one of the world's most densely populated cities, it regularly experiences water shortages. Similar to other major cities, Tokyo was losing about 15 to 20 percent of its potable water to leakage. At least until 1980, when the water utility initiated a new strategy.
The strategy covered three aspects: deploying high-tech leakage prevention, early detection and repair of leaks, and planned replacement of mains and service pipes with long-lasting alternatives. With a network spanning 27,000 km, the prospect of pipe replacement was a tall order but offered massive savings potential.
A city built on water
The water network comprises mains up to 2.7 meters, sub-mains up to 350 millimeters and numerous smaller service pipes, all varying in age and materials. Some of the larger mains were made of ductile cast iron, with many of the service pipes being unlined cast iron and older steel pipes. In some areas of the city, a lack of external coating on the pipes and corrosive chloride ions in the soil resulted in even higher leakage. 
Another factor was that some parts of the network lacked earthquake-resistant joints, meaning the water supply carried additional public safety risks should a natural disaster occur. 
Planning for the future
Following an extensive appraisal, the Tokyo Water Board opted to use stainless steel for service pipes and ductile iron for larger distribution mains under an ambitious 30-year replacement program. By 2013 the utility had slashed leakage from 15.4 to 2.2 percent, which reduced overall consumption, alleviating pressure on the natural environment. This was despite a larger and more water-thirsty population. The new pipes also helped Tokyo Water Board reduce its maintenance budget – dropping from 69,000 cases in 1980 to just 10,000 in 2013.
The reduction in water treatment and energy costs, together with the lower operational costs, resulted in annual savings of US$480 million. To top it off, the utility managed to reduce its carbon footprint by 54,000 tonnes of CO2 per year by pumping and treating less water.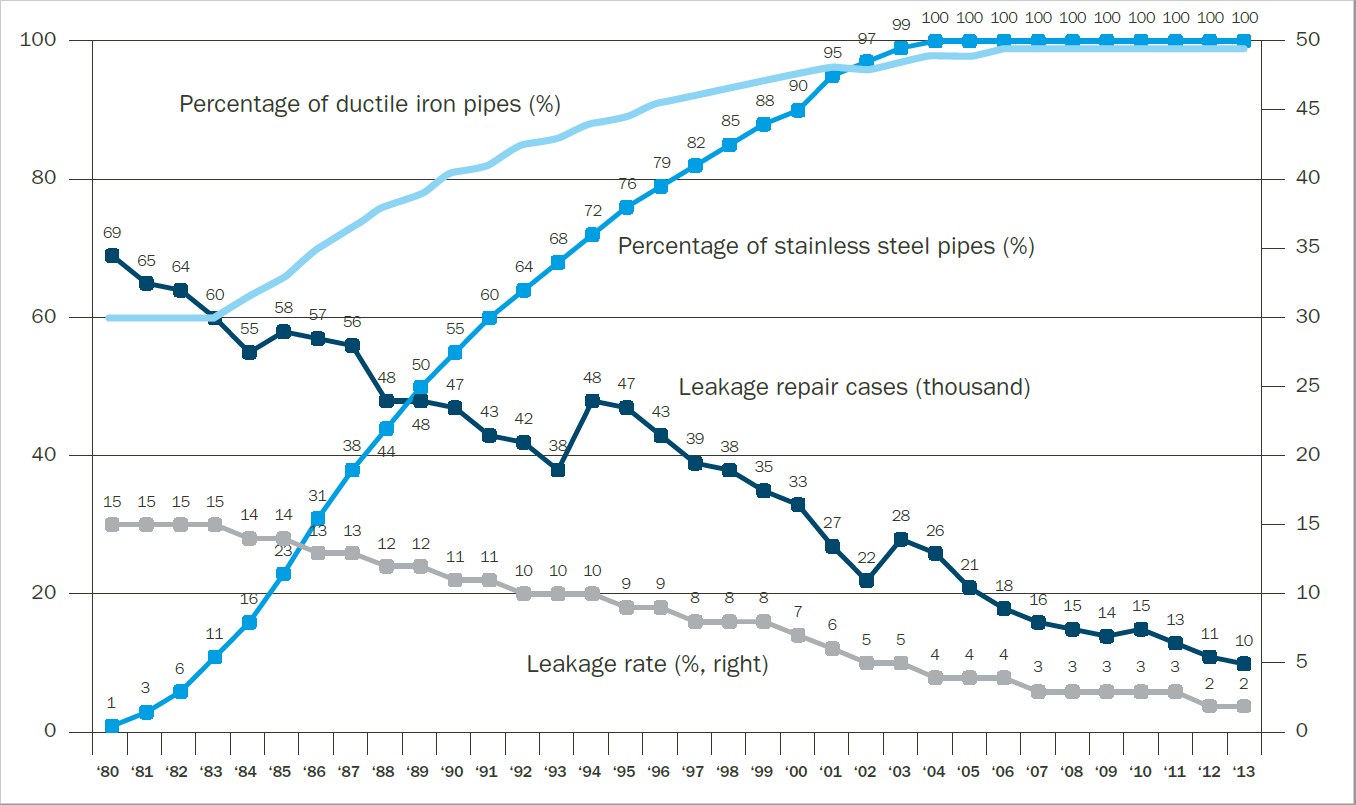 In addition, resilience of the stainless steel is safeguarding water quality, with no risk of substances such as endocrine disruptors leaching into the water supply. No chemical residues were found inside the pipes after regular inspections. 
The utility has also implemented additional leakage strategies in terms of early detection and repair. The network has been divided into smaller blocks which are surveyed every decade. At the same time, the utility has a 24/7 leakage team that has systems in place to react immediately to reports of visible signs of leakage.
The second strategy is to detect and address leakage with the use of technology such as acoustic detection. Continuous monitoring and data collection assist with root cause analysis, including night-time analysis when flows are low. The utility also uses helium to detect the location of underground leaks. Chemically inert helium gas is injected into the water mains, and will escape from them along with water at the point of a leak. While the water trickles away underground, the helium will seep upwards, to be picked up by a helium sensor to identify the leak's location.
Life cycle costs analysis
After evaluating several options – including carbon steel, three grades of stainless steel, and lead as a historical comparison – Tokyo Water Board finally settled on stainless steel 316. 
The water board wanted a long-term solution that would minimize leakage and repair. Stainless steel has a design life of 100 years compared to the 20 years of polymers such as PVC or PE, so it did not consider these. 
Tokyo Water Board found stainless steel to be the most cost-effective option over 100 years, despite a higher initial investment cost. Grade 316 is only 25 percent of the lifetime cost of alternative materials, considering the latter's need for regular maintenance and replacement every 20 years approximately. However, that does not count the cost of disruption to business. 
And while the projected life is 100 years, stainless steel pipes may last much longer. We only have a century of experience, having developed the first stainless steel in the 1920s. An early example of its use in a city is the Chrysler Building in New York. Its stainless steel spire and exterior panels are still unblemished more than 90 years after it was built.
Long-term corrosion testing
Long before choosing a material, the Tokyo utility was aware of substantial corrosion to pipes in parts of the city. Its evaluation of stainless steel had started 10 years earlier, when it buried sample pipe sections in the ground at 10 sites. Ten years of exposure to the soil not only revealed the actual impact of chloride ions but also proved grade 316's superior strength and corrosion resistance.
Because of its higher alloy content, the grade comes at a higher purchase price, but its strength and durability shield it from chloride ions and seismic activity. 
However, soil conditions differ from city to city. Seoul in South Korea, for example, has also deployed stainless steel but selected grade 304 as most suitable for its less aggressive soil chemistry.
Water-tight flexibility
Knowing that most leaks occur at joints, the city introduced another innovation in 1998. It adopted flexible stainless steel pipes with intermittent corrugated sections to eliminate the use of elbow joints. 
These corrugations remain flexible even when buried, which means the pipes can resist seismic shocks. This was put to the test when one of the most intense earthquakes ever recorded, the Great Sendai Earthquake, hit Japan in 2011. Post-inspections on the network revealed that a mere five percent of Tokyo's stainless steel pipes were damaged. 
From a practical perspective, Tokyo Water Board buys corrugated pipes in four-meter lengths with a diameter of up to 700 mm. They can be welded together or to stainless steel junctions. The Japanese Water Works Association requires the pipes to withstand hydraulic pressure of 1.75 Mega Pascals (MPa) for one minute without any leakage or damage. 
The corrugated tubes are similar to coupling tubes used in the automotive industry so existing production lines could be adapted to meet demand.
Lessons from Tokyo
Water resources and water scarcity are universal issues. Network operators around the world can learn from Tokyo's experience of testing and evaluation of materials and establishing a supply chain for corrugated pipes.
In the spirit of international cooperation, the Tokyo Metropolitan Government committed in 2016 to exchange knowledge with water suppliers across the world. This will eliminate much of the initial spadework, giving other operators a head start. The cities of Seoul and Taipei have already started their own initiatives and are seeing similar success. It will be interesting to see which city will be next.