CASE MAASTANK
When specialist tank builder GPI Tanks XL built new capacity for storage leasing company Maastank International at the Port of Rotterdam in 2021, it selected duplex stainless steel for sustainability and to protect itself from the volatility of nickel prices.
Marijn Kuiper, Managing Director of Maastank International, and Enzo Panella, Sales Director for GPI Tanks XL explain.
Long life and low maintenance
According to Marijn Kuiper, MD of Maastank, stainless steel is the ideal choice of tank material for storing vegetable oils, and food and feed products. Because of its corrosion resistance, it is strongly preferred by Maastank's customers.
"Our business is to lease bulk storage capacity to traders and food producers, and we also provide capacity for technical products used in the biofuel industry.
"When planning new tanks at our facility at the Port of Rotterdam, we only considered stainless steel. It is very sustainable as it gives us flexibility to store a wide range of products over a long life of 40–60-years. However, because the material does not react with the products, there's virtually no end to the lifetime that we can expect.
"A further benefit is that maintenance costs are relatively low. Stainless steel has longer intervals between inspections and repairs are almost non-existent compared with mild steel. Typically, we'd take a stainless steel tank out of operation for inspection once every 15 years. In most cases, when it comes to inspection, we'll clean the tank, wait for the results and put it back into service after a week or so.
"While this 15-year inspection interval is possible for mild steel, it very much depends on the product being stored and it's more likely that we'd need to use a 10- or 5-year inspection interval. Once a mild steel tank has been operating for around 40 years, we find that maintenance costs will start to rise. The floor plates are usually the first area that needs attention as this where residual water builds up when storing oil products.
"We engaged GPI Tanks XL to build our new tanks because of their capability and experience in building a wide range of stainless steel tanks. They submitted the order for the tank material and involved us at every step of the process."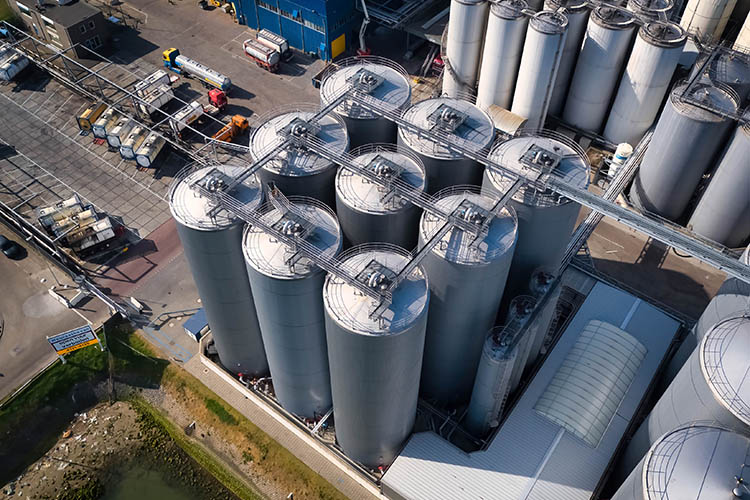 The commercial case for duplex stainless steel
For the Rotterdam project, GPI Tanks XL delivered a total of nine tanks, varying in capacity from 1,620 m3 to 2150 m3, all of them being 27.5 m high.
Enzo Panella, Sales Director for GPI Tanks XL, said: "Maastank's new tanks are in the sweet spot for the capacity used for storage of edible oils. We build tanks from 500-600 m3 all the way up to 15,000 m3 and from 6 to 25 m diameter and up to 27.5 m high. Once a customer gives us their outline requirements, we make the sizing calculations before evaluating and ordering material.             
"For this project, we chose Outokumpu's DX 2205 duplex stainless steel instead of the well-known stainless steel 304 or 316 grades. This was primarily for commercial reasons but also because it has good chemical resistance.
"Until about 2019, we would start with grade 316 by default when designing tanks. Back then, we would only consider using a duplex stainless steel at the bottom of the tank where we need thicker walls to contain the high pressure of the stored liquid.
"Duplex stainless steel has high yield strength, therefore we can use less of it and can therefore design thinner tank walls. So while it was more costly per tonne, we'd need less of it, so duplex stainless steel would make sense for tank walls thicker than 6mm."
"However, recent changes in the price of nickel mean that it is now more affordable to build the entire tank from the duplex stainless steel material."
Sustainability impact of high strength
There are addition benefits from using a high-strength material to order less steel overall. Smaller orders mean lower carbon footprint as it takes a significant amount of energy to produce stainless steel alloy and roll it to the required specification. Furthermore, construction and fabrication are more straightforward, with simpler logistics, and easier lifting, handling and welding. 
According to Marijn, sustainability is becoming more important for Maastank: "Our customers are extremely interested in our carbon footprint and the downstream impact it has on their products. Therefore, we are always looking at ways to reduce our carbon footprint, particularly in heated storage tanks that use heating coils to control the viscosity of oil.
"It's important for us to look at the whole lifecycle of our tanks and find ways to reduce carbon footprint. Stainless steel is a very attractive material because of its durability and duplex grades are particularly appealing as they keep order sizes down. That's good for our sustainability, as well as our competitiveness over a long life of 60+ years."
You might also be interested
What makes duplex stainless steel the right material choice for storage tanks?
Outokumpu's Duplex Guide for Storage Tanks walks you through all the key information on duplex stainless steel as a storage tank material, from mechanical strength to corrosion resistance, and grade selection to sustainability.
Access the guide
Storage tank calculator
The calculator allows you to calculate and compare different materials for storage tanks. It is an easy way to see and learn how your selection of steel grade affects material consumption and cost.
Open the calculator