From the start of November 2022, Outokumpu has been providing its customers with the specific carbon footprint for their products – and is the first stainless steel producer to offer this. Rodrigo Signorelli, our Lead Technical Manager for Marine & Energy explains what this means for the oil and gas industry.
Stainless steel and other corrosion resistant alloys are used widely in the oil and gas industry to ensure that assets are reliable, safe and long-lasting. Upstream, they are used as in pipelines, flowlines, control lines and downhole tubing and they're used downstream in refinery equipment such as heat exchangers. 
Quality, price and availability are always important commercial factors, but today's buyers also need carbon footprint data so that they can focus on measuring and improving environmental and sustainability performance. 
Interpreting carbon footprint can be challenging for the engineering, procurement and construction (EPC) contractors that oversee material specification. There is significant variation in carbon footprint of corrosion resistant alloys, depending on how the alloy is produced, the alloying content and the processing steps used. 
And while kilograms of CO2 emissions per kilogram of steel may seem comparable at first glance, it may be impossible to make a direct comparison between the carbon footprint data quoted by different companies. That is because different companies interpret the ISO14040 environmental management standard in different ways. For example, they may apply the product category rules (PCRs) differently – and that can lead to significant variation in the apparent carbon footprint. 


The drive for product-specific data
Until now, the industry has always relied on average figures. Some buyers have simply used the European average footprint of 2.8 kg of CO2 per kg of stainless steel, whereas Outokumpu has always quoted a significantly lower average, which was calculated across our entire portfolio. 
That is because we base our production on electric arc furnace (EAF) technology that draws low-carbon electricity from nuclear and renewable sources. In addition, we minimize energy consumption by using an average of 90% recycled scrap content in our stainless steels. 
However, we recognized that it's not enough to present an average figure to our buyers. There is growing demand for accurate figures that account for emissions under Scopes 1-3. 
We are now able to meet this demand and have added product-specific carbon footprint data to the product certificates we supply to customers with their orders. Based on a rolling average, the new product-specific carbon footprint takes account of the energy we use in our steel melt and processing steps under Scopes 1 and 2, as well as the embedded CO2 from upstream sourcing and processing of alloying elements and recycled scrap content under Scope 3. And buyers can have certainty in the data as our methodology has been verified by WSP, the engineering consultancy.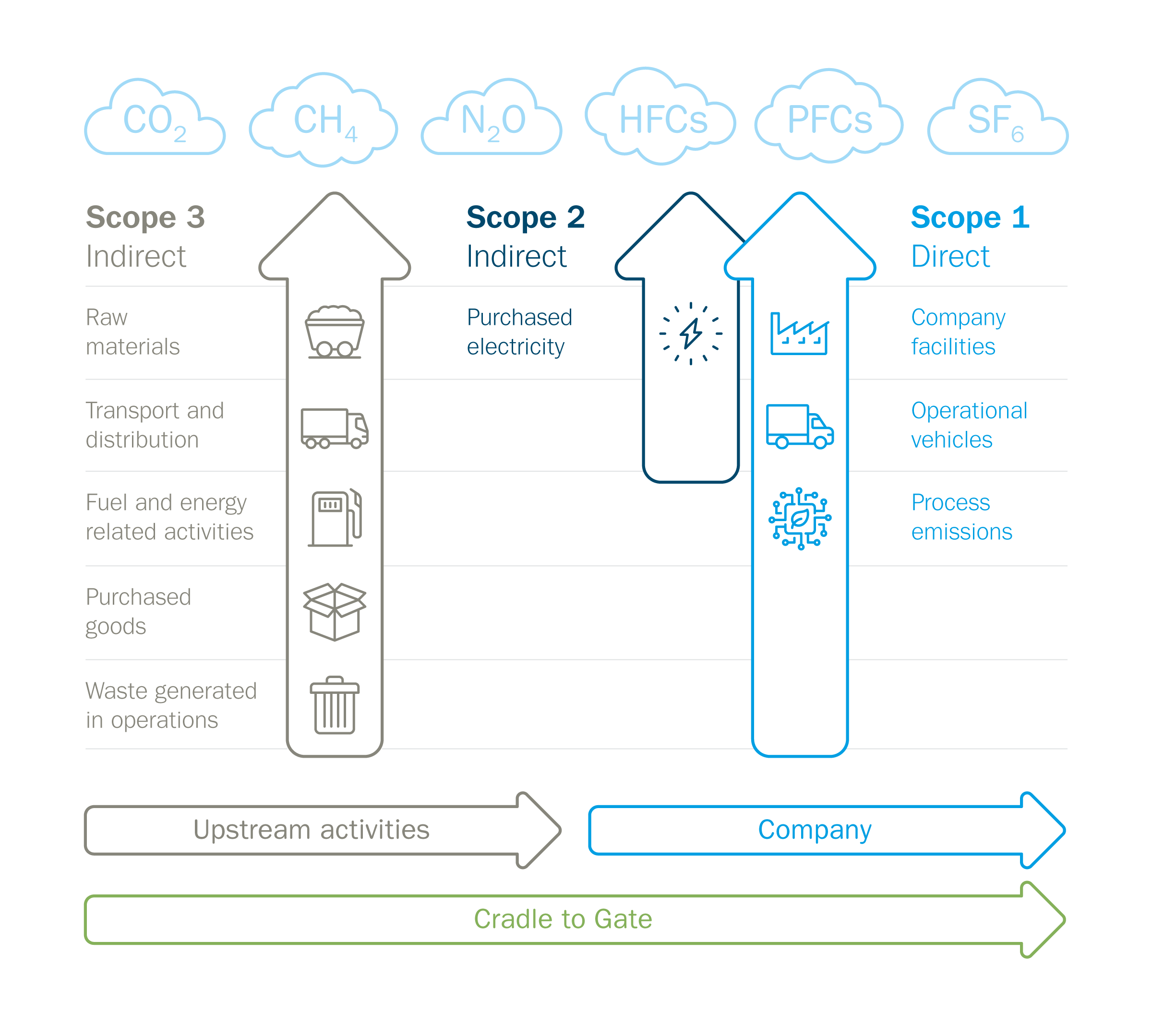 Accurate calculation of infrastructure's carbon footprint
What this means for buyers in the oil and gas industry is transparency and accountability over the environmental impact of their alloys. Project engineers will be able to use the data to improve accuracy when calculating the carbon footprint of the infrastructure that they build using our material. 
The duplex, super duplex and nickel alloy grades used in oil and gas contain higher levels of virgin materials to meet the high alloy composition. As a result, they tend to have a higher carbon footprint than a standard off-the-shelf grade like 304 or 316. In general, we can produce grade 304 without adding pure nickel and other elements and this helps to minimize carbon footprint in these cases. However, this approach is not possible when it comes to high-performance alloys. 
It's true that the alloying content tends to push the carbon footprint up compared with the basic grades. However, the single most important aspect of sustainability is building infrastructure that achieve the required specification. For example, building pipelines or heat exchangers that are safe, reliable and long-lasting. 
In addition, we counterbalance the effect of the alloying elements by using a high ratio of scrap in our products and sourcing fossil-free energy at our production sites. This minimizes the carbon footprint of these high-performance alloys without greenwashing. 
Ultimately, it is only through accurate data that the industry can truly demonstrate its drive towards sustainability. And by being the first in the industry to take this open book approach, our customers will benefit. 
Advanced materials for harsh conditions
 Learn more about the benefits of our high performance stainless steels and corrosion resistant alloys for oil and gas industry

Learn more