Duplex stainless steels have been used for oil and gas extraction since the early 1970s, when it was employed for downhole components in oil and gas wells, and also at oil refineries to minimize corrosion.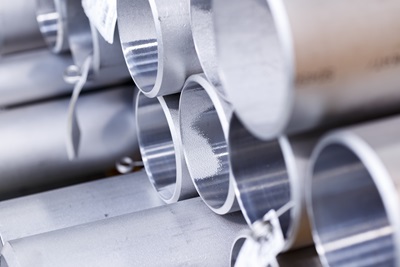 However, duplex grades became very popular during the North Sea oil and gas boom. Engineers specified it for pipelines off the coast of the Netherlands when they a needed strong and long-lasting material to carry the flow of oil and gas ashore.  
These wells presented a challenge as they contained carbon dioxide and hydrogen sulfide, which required a pipeline material with excellent corrosion resistance as well as high strength to resist high pressure. Weldability was extremely important for these pipelines as any failure could have caused a major health, safety and environmental incident. 
The late 1980s saw the development of super duplex stainless steels. These were developed as a material for high pressure process systems on offshore installations. The high strength of the duplex material was a major advantage compared with austenitic stainless steel as it led to downsizing of equipment and required less material. As a result, super duplex grades were sometimes used in seawater systems instead of super austenitic grades. 
Another offshore application was in the construction of blast walls for oil and gas installations. These safety-critical walls need to be strong to resist the force from a gas explosion and guide the force of the blast outwards, away from the platform. Using duplex instead of austenitic stainless steel saves around one third of the weight of steel, leading to a saving of 1000 tonnes for the topside of a typical offshore platform. 
We are celebrating the 90 years of duplex stainless steel. Duplex stainless steel was originally developed by Outokumpu in Avesta, Sweden in 1930.  As the original inventor of duplex we have both experience and expertise to take the material further.