Introducing case Amazon Doppler
Designing a colorful stainless steel façade demands dedicated effort and attention to detail, combined with the right technical expertise. Find out how this was accomplished in the impressive Doppler building!
Amazon's Doppler building (also known as Amazon Tower I and Rufus 2.0 Block 14) is a fine example of an outstanding modern stainless steel façade in elegant, imaginative colors. The cladding for the skyscraper was built with Outokumpu Supra 316L/4404 stainless steel and the façade owes its stunning appearance to a sophisticated coloring process by Inox-Color.
Ambitious artistic and technical requirements call for a versatile façade material
For the Doppler building, NBBJ principal and architect Dale Alberda aspired to create a handsome, colorful façade that changes its appearance depending on the light and weather conditions. Alberda wanted a durable, sustainable material that would help to gain credit in green building ratings. The location in downtown Seattle near the coast also meant the stainless steel grade needed to match a certain level of corrosion resistance.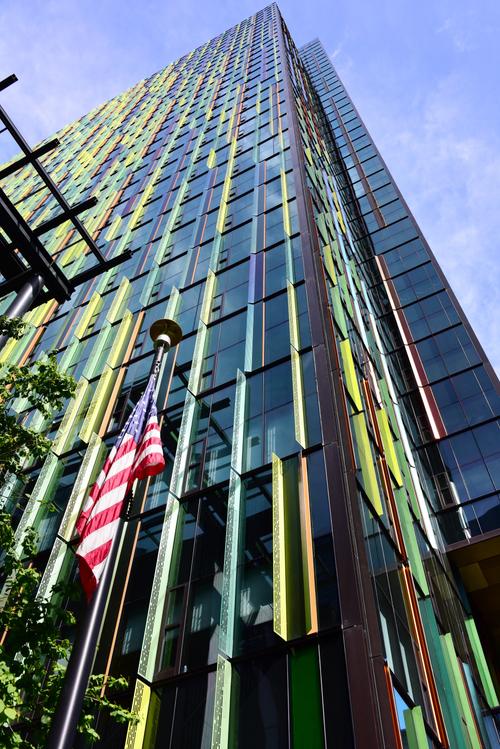 Ines Gaede, Managing Partner at Inox-Color GmbH and the technical mastermind between the architect's vision and the final result, shares her insights on the project.
According to Gaede, stainless steel is a remarkably versatile façade material that offers a wealth of creative potential. She set out to realize Alberda's vision with a common Outokumpu stainless steel grade and a delicate electrochemical coloring process.
Defining the right tones of gold, red, purple, green, blue, champagne, and bronze
Over a period of five months, Gaede and her team at Inox-Color performed various trials to define the desired color range, from the lowest red tone to the brightest shades of gold. She describes the procedure:
"The INOX-SPECTRAL® coloring process is based on increasing the chromium oxide layer of the stainless steel itself which creates interference colors on the surface. This means it preserves both the functional and optical qualities of the base material. No external lacquer or color coatings are needed, and there is no risk of the colored surface cracking or peeling."
Jörn Teipel, Lead Technical Manager in Architecture at Outokumpu, recalls working with the colored stainless steel samples: 
"I was deeply impressed by the level of precision in this technique and the way Ines Gaede could produce the particular color tones that Alberda was looking for."
Dedicated efforts in design and attention to detail bring out spectacular results
The finished Doppler building is the result of careful, professional crafting and shows admirable attention to detail. It showcases the fact that stainless steel lends itself to a range of aesthetic qualities – not just the sleek, uniform, metallic look often associated with the material.
"The façade has a lively, colorful surface that constantly communicates with the light coming from different angles. If you walk around the Doppler, it looks different with every step you take," Gaede explains.
Doppler fact box:
Design: NBBJ (US) 
Grade: Supra 316L/4404
Surface finishes: Deco Supermatt and 2B
Fabrication process: Cold rolled stainless steel
Coloring process: INOX-SPECTRAL®
Material thickness: 1.2 mm and 1.5 mm
Panel width: 1250 mm
Weight: 90 tonnes
Panel manufacturer: Pohl Metal Systems, Köln, Germany 
Material supplier: Outokumpu
gallery
Explore the imaginative colours of stainless steel façade in detail.
Outokumpu's guide for architects
Download our Façade Design Guide
Are you looking for a durable yet versatile material that can be processed to form architectural structures in a variety of shapes and sizes? Download our Façade Design Guide and discover how to design stunning timeless façades with stainless steel.
Download
Read more about façades and recommended products