According to Andy Backhouse, Outokumpu technical manager, the maintenance budgets for the bridges that connect our cities dwarf the original capital infrastructure cost – and with operational budgets under pressure, many highways agencies are finding that the condition of bridges are deteriorating. 
In 2019, the American Road and Transport Builders Association (ARTBA) published its sixth annual bridge report, covering more than 600,000 bridges in the US. ARTBA reported that 47,000 bridges with a combined length of 1,100 miles (1,760 km) are structurally deficient. The average age of the deficient bridges being 62 years, compared with an overall average 40 years for the nation's bridges – a fact that highlights the importance of maintaining structures as they age. 
Maintaining the Brooklyn Bridge 
New York City's Brooklyn Bridge brings the issue to life. It was completed in 1883 for a cost
of $15 million, which is worth $380 million in today's money. However, New York State Department of Transportation has spent far more to repair and maintain the structure over the years, including $600 million since 2006. In spite of this, the bridge is still structurally deficient, with corrosion affecting components such as floor beams and base plates. As much as 65 percent of the structure has been lost to corrosion in some places. Unfortunately, when the bridge was built in 1883, stainless steel did not exist. 
It's no wonder that today's engineers and architects are turning to stainless steel as
a durable, corrosion-resistant and attractive alternative to the carbon steel that was used as the material for the Brooklyn Bridge. 
Stainless steel for bridges
Stainless steel has been used widely for bridge projects around the world for various reasons. 
 Durability 

Corrosion resistance 
Less maintenance 
Longer service life 

 Economics

Initial cost vs. Life Cycle cost thinking
Ownership cost, User cost, Society cost 

 

Environment

Aesthetics
Re-use & Recycling Sustainability 

 

 Structural design

Modern design rules 
Material Selection 
Weight savings

 

 Fabrication

Forming
Welding 
Surface treatment 

 

 Experience

Evidence of performance 
Best practice 
York Millennium Bridge built to last 
A new bridge for the UK city of York was completed in 2001 to provide a pedestrian and cycle route over the River Ouse. The project was led by charity the York Millennium Bridge Trust who wanted the bridge to become a meeting place for the community and to complement the beauty of the landscape. The structural engineer selected Outokumpu's Forta DX 2205 duplex stainless steel as the material for the overhead arch that supports the bridge deck. This grade combines very good corrosion resistance with high mechanical strength. 
Singapore's Marina Bay Bridge 
Taking inspiration from the double helix of DNA, the designers of Marina Bay Bridge in Singapore wanted the structure to look good and optimize costs over a 100- year life. They chose Forta DX 2205. As a high-strength material, it enabled the structural engineer to create 
a lightweight structure that saved weight and hence minimized the cost. Having opened to the public in April 2010, the structure needs only occasional inspection and no painting. 
Strong and long lasting 
Duplex stainless steel fits the bill as it combines high strength and corrosion resistance.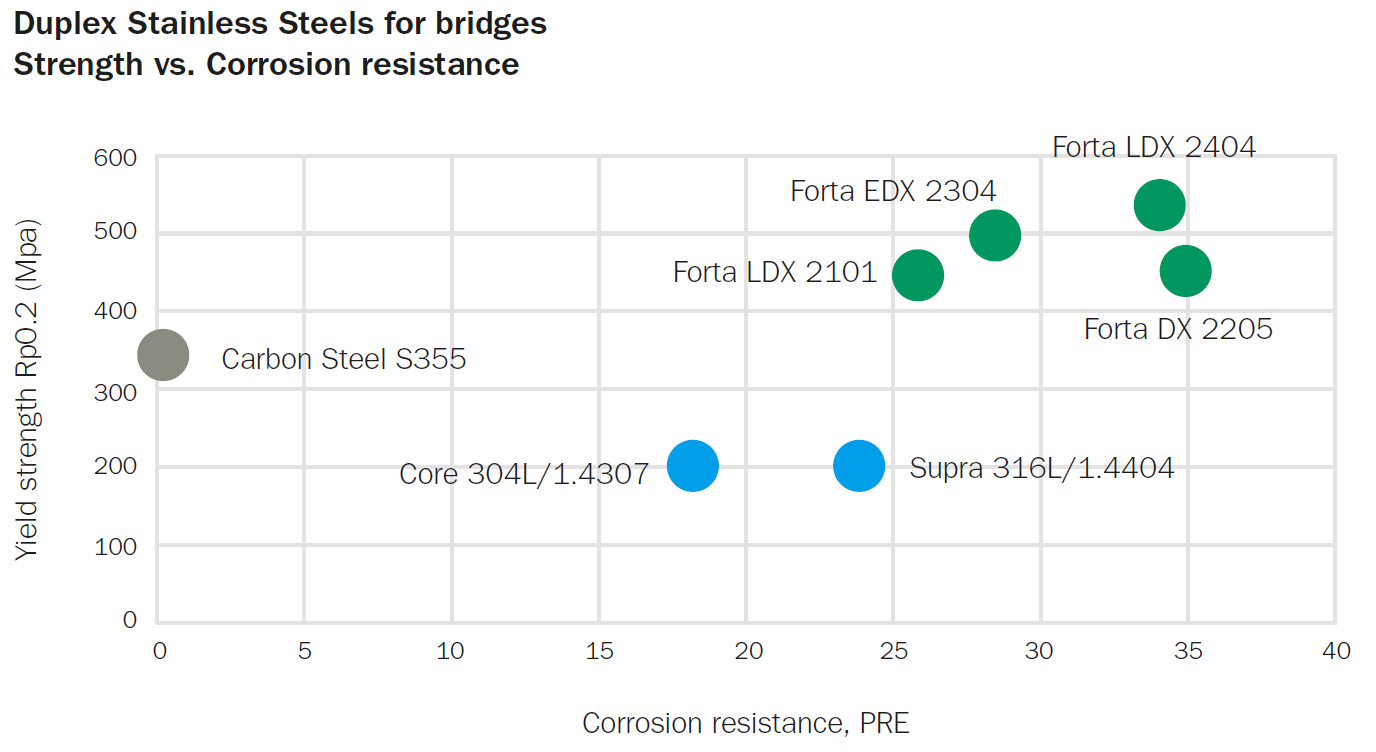 Cost comparison 
A typical steel-concrete composite highway bridge design provides a good model to use as a cost comparison between beams in grade S355 carbon steel, an unpainted weathering steel and two grades of stainless steel (Forta LDX 2101 lean duplex and Forta DX 2205 duplex). 
The steel costs differ. Although the lean duplex may seem more costly, its high strength means that with optimized design and erection strategies the bridge girders may be downsized, therefore a project could be undertaken at similar cost to carbon steel. 
Savings are made during the life of the bridge. Maintenance costs vary, depending on whether the bridge spans a minor or major road, a salt water estuary or a railway cutting. Typically, duplex stainless steel has paid for itself when a carbon steel bridge would need its first repair or repainting – and these savings mount up as the years go by. Over a design life of 60-120 years, stainless steel is the lowest cost material. 
Stockholm's Söderström railway bridges 
Trains arriving at Stockholm Central train station from the south must travel over a set of four 174-metre long railway bridges. These were built in 1957 and are essential for connecting Sweden's capital city. However, after decades of wear and tear, the original carbon steel structure had reached the end of its life in 2013. 
Trafikverket, Sweden's traffic authority, wanted the new structure to achieve a 120-year life with minimal lifetime costs. It calculated that each of the four structures would cost 0.5 million Euros if made from painted carbon steel grade S355 or twice that if made from Outokumpu Forta LDX 2404 – a material cost that is marginal compared with the project's overall 300 million Euro budget. 
However, the duplex stainless was demonstrated to be less costly in the long term. Carbon steel would require re-painting every 30 years, with costs rising from 20 to 60 million Euros as the bridge ages and the condition deteriorates.
As well a supplying the stainless steel, Outokumpu supported the project with beam fabrication and automated welding at its plate service center, before delivery for final welded assembly of the sub-structures and delivery to site for fast-track installation from barges by Stål & Rörmontage. The project team was rewarded for its efforts by winning a Gold Award for best new development at the International Stainless Steel Forum in 2019. 
Protecting heritage sites 
Elsewhere, stainless steel can provide a light touch to extend and update heritage infrastructure. The UK's Devon County Council wanted to add a side extension to an existing stone road bridge for pedestrian and cycle traffic. 
To achieve this, the council's structural engineer developed a cantilevered design that appears to float unsupported. However, a series of beams made from duplex stainless steel extend out from underneath the roadway and support the new footbridge deck. Meanwhile, more duplex stainless steel has been used to form transparent railings, providing a protective barrier for pedestrians without spoiling views of the historic bridge. 
Another example where duplex stainless steel will be used to protect and enhance views is Pooley Bridge in Cumbria, which is on the edge of the UK's Lake District National Park. The town's 18th Century stone bridge was swept away during severe floods in 2015. 
A replacement bridge is due to open in spring 2020 and its structure will be based on Forta LDX 2101 lean duplex stainless steel with a concrete deck. Crossing the river in a single uninterrupted span, and based on a corrosion- resistant stainless steel, the new bridge is designed to resist extreme flooding that may happen in the future. 
The material has also enabled a delicate and attractive design – a vital consideration for the area, which depends on tourism. 
Read more about the benefits of stainless steel in bridge building