Copper & Brass awards Outokumpu Stainless Bar as Supplier of the Year
The Long Products stainless bar unit OSB (Richburg, SC, US.) has been awarded Supplier of the Year by ThyssenKrupp Materials North America's Copper and Brass division, one of Outokumpu Long Products' important customers in the US. The award was given for outstanding partnership based on best delivery, performance and quality.
Copper & Brass handed out awards in three material categories: stainless steel, aluminum and red metals. This year's winner for stainless steel was Outokumpu. Bob Beatty, head of OSB, together with sales representatives Ted Toscos and Jerry Poalise accepted the award on behalf of Outokumpu.
Edward Kurasz, President and CEO of the Copper and Brass division, says, "Thank you to our valued suppliers. We appreciate these partnerships and you are an integral part of our success."

Kari Tuutti, head of Long Products, says, "This is a great recognition from one of our important customers in the US. I am very proud of the entire team in Richburg for receiving the award. This is a result of long-term relationship building with the customer and working together through the entire production chain from melt-shop to finishing."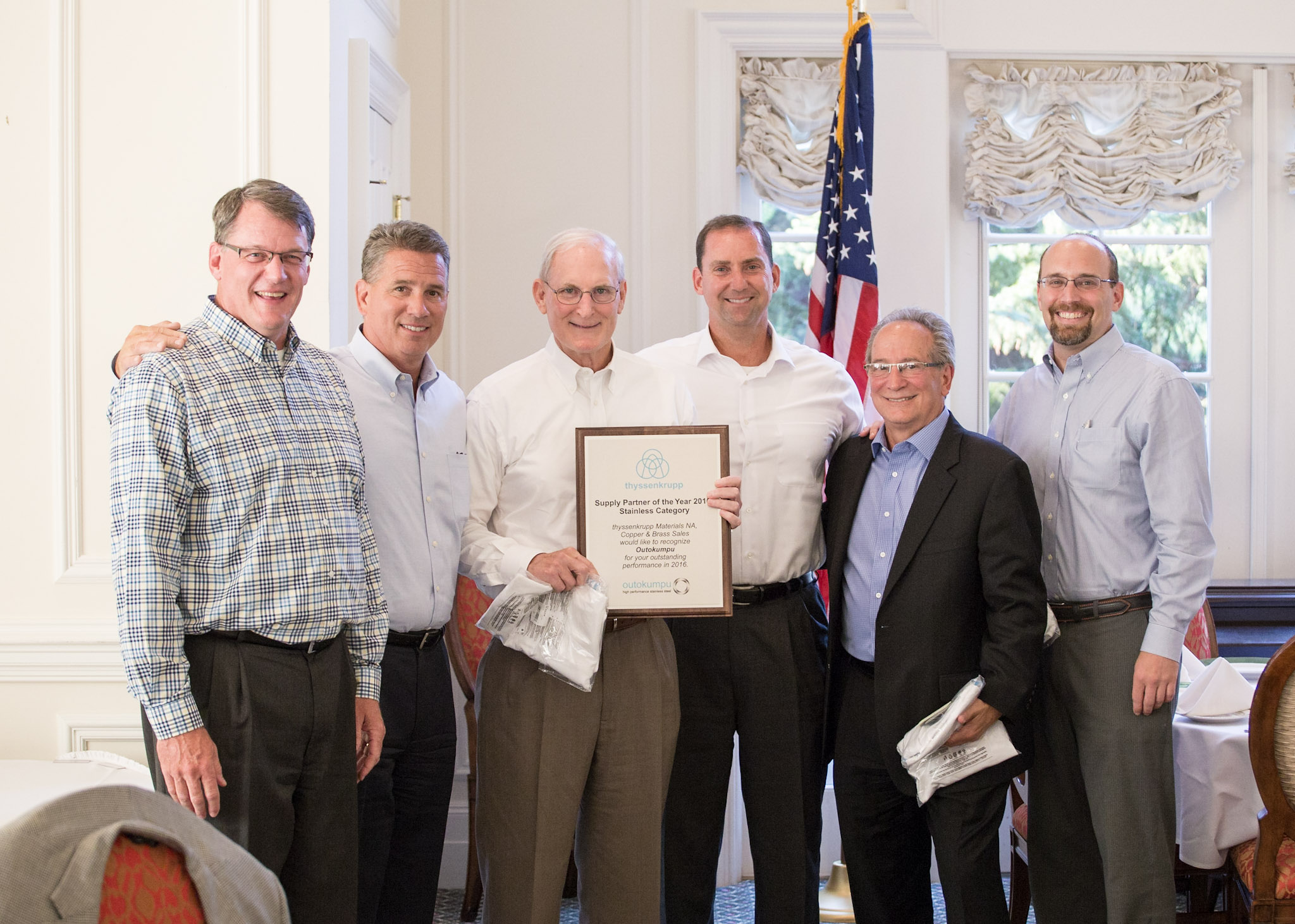 Pictured from left to right:
Doug Zeug – Aluminum Product Manager, East, Thyssenkrupp Materials N.A., Copper and Brass Sales, Ed Kurasz – President and CEO, Thyssenkrupp Materials N.A., Copper and Brass Sales, Bob Beatty - Head of OSB, Ted Toscos – Regional Sales Manager OSB, Jerry Poalise – Commercial Manager OSB and Kevin Reid – Vice President Strategic Procurement, Thyssenkrupp Materials N.A., Copper and Brass Sales
Published 8月 18, 2017