According to the new materiality analysis, Outokumpu has five core focus areas for sustainability: Occupational health, safety and well-being; Responsible business practices; Energy management; Material efficiency and Customer experience.
As a basis for the materiality analysis, a third party conducted an extensive data study of the emerging trends in the steel industry and compared these trends with the material topics of Outokumpu's main peers, customers and suppliers. This analysis was complemented with an overview of material issues found in global Environment, Social and Governance (ESG) and sustainability frameworks.
Based on this research an initial list of material topics was drafted and narrowed down to the 14 most material topics which were ranked and prioritized in an internal workshop. A questionnaire on material topics was answered by 21 customers during our customer event in Sweden in 2018. Additionally, interviews with three customers and three suppliers were conducted to gain a deeper insight into these stakeholder groups. The topics were ranked and prioritized by their importance to stakeholder groups and business impact.
The material topics were then mapped to the Sustainable Development Goals and compared to Outokumpu's previous materiality matrix and strategy to identify potential gaps. In the final stage, a new materiality matrix was created based on the stakeholder rankings of material issues and the business impact of these issues to Outokumpu.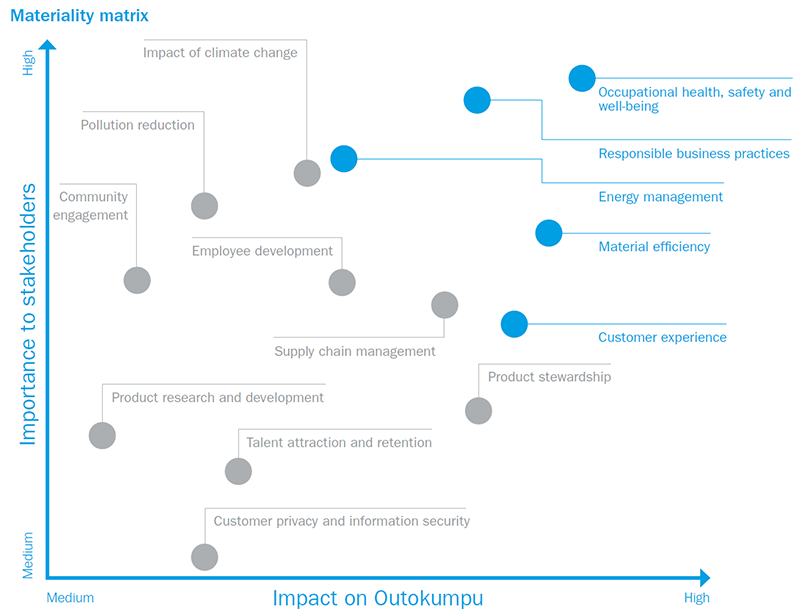 GRI standard material topics and disclosures
Download more information on material topics and their boundaries
MATERIAL TOPICS ACCORDING TO GRI DISCLOSURE

Material topics according to GRI standard 102-47

GRI standard disclosures

Environmental Impact

303-1

Water withdrawal by source

304-1

Operational sites owned, leased, managed in, or adjacent to, protected areas and areas of high biodiversity value outside protected areas

305-7

Nitrogen oxides (NOX), sulfur oxides (SOX), and other significant air emissions

306-1

Water discharge by quality and destination

Management of toxics

403-2

Types of injury and rates of injury, occupational diseases, lost days, and absenteeism, and number of work-related fatalities

416-2

Incidents of non-compliance concerning the health and safety impacts of products and services

Climate change

305-1

Direct (Scope 1) GHG emissions

305-2

Energy indirect (Scope 2) GHG emissions

305-3

Other indirect (Scope 3) GHG emissions

305-4

GHG emissions intensity

Resource efficiency

301-2

Recycled input materials used

302-1

Energy consumption within the organization

302-3

Energy intensity

306-2

Waste by type and disposal method

Transport & Logistics

305-3

Other indirect (Scope 3) GHG emissions

Commitment to Sustainability Leadership

102-10

Significant changes to the organization and its supply chain

102-18

Governance structure

102-12

External initiatives

102-10

Significant changes to the organization and its supply chain

405-1

Diversity of governance bodies and employees

Management Systems & Product Certifications

102-2

Activities, brands, products, and services

Sustainability Driven Commercial Opportunities

203-2

Significant indirect economic impacts

Environmental Impact

201-1

Direct economic value generated and distributed

Product Responsibility & Safety

416-2

Incidents of non-compliance concerning the health and safety impacts of products and services

Accountable & Transparent Governance and Reporting

405-1

Diversity of governance bodies and employees

Compliance

307-1

Non-compliance with environmental laws and regulations

102-17

Mechanisms for advice and concerns about ethics

419-1

Non-compliance with laws and regulations in the social and economic area

206-1

Legal actions for anti-competitive behavior, anti-trust, and monopoly practices

205-2

Communication and training on anti-corruption policies and procedures

102-16

Values, principles, standards, and norms of behavior

Stakeholder Engagement

102-40

List of stakeholder groups

102-42

Identifying and selecting stakeholders

102-43

Approach to stakeholder engagement

Sustainable Supply Chain

204-1

Proportion of spending on local suppliers

308-1

Percentage of new suppliers that were screened using environmental criteria

414-1

New suppliers that were screened using social criteria

102-10

Significant changes to the organization and its supply chain

102-9

Supply chain

Labor Practices & Human Rights

414-1

New suppliers that were screened using social criteria

404-2

Programs for upgrading employee skills and transition assistance programs

Safe & Healthy Workplace

403-2

Types of injury and rates of injury, occupational diseases, lost days, and absenteeism, and number of work-related fatalities

Human Resource Development

401-1

New employee hires and employee turnover

405-1

Diversity of governance bodies and employees

102-8

Information on employees and other workers

Restructuring Investments and Closures

203-2

Significant indirect economic impacts

Community Relations & Development

413-2

Operations with significant actual and potential negative impacts on local communities

415-1

Political contributions

201-2

Financial implications and other risks and opportunities due to climate change