I've had my own stainless steel hot tub in my garden in northern Finland for a couple of years. I use it year-round, even when it's minus 30 °C in winter. It's lovely to relax in the warm water with good company and the Aurora borealis in the dark sky above. Traditionally, Finnish outdoor hot tubs are wooden, although most are made from plastics and fiber glass today. Stainless steel has major advantages over these. It's tough, resilient and hygienic, and is easy to maintain and clean. It also looks great and conducts heat, which helps the tub come up to temperature more quickly.
Choosing the right grade
I'm not alone in recognizing the advantages of stainless steel. Swedish hot tub brand Modulpool and specialist French swimming pool contractor BC Inoxeo both use Supra 316plus with a smooth '2B' surface finish. This is a grade in the 316 family of stainless steels. It provides higher corrosion resistance and is a bit tougher than 316L, although either grade is ideal for many indoor and outdoor pools. We also supply higher alloyed grades for sites that need more corrosion resistance.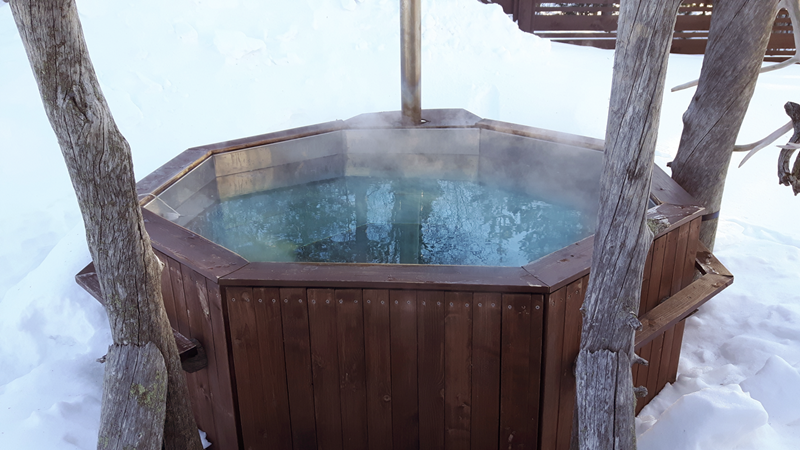 Juha Kela's stainless steel hot tub built with Outokumpu's Core 4622 grade. Photo: Juha Kela
All these grades are in normal production, so are widely available to swimming pool manufacturers. They provide a strong, attractive finish and are straightforward to bend, drill and weld. That makes them ideal to create complex shapes that wouldn't be possible in concrete, wood or fiber glass. Once built, stainless steel pools are easy to clean and maintain and resilient against damage.
BC Inoxeo's customers are making use of these advantages. The firm has delivered more than 150 bespoke leisure pools for local authorities, leisure facilities and private customers since 2011. Their website includes photographs that show the design flexibility of stainless steel as a material.
When choosing a stainless steel grade, it's worth thinking about pools on a case by case basis, as the environment informs the need for corrosion resistance. For example, the pool may be indoors or outdoors, near the coast or inland. In addition, the number of swimmers, water quality and level of water treatment can vary, as can the level of cleaning and maintenance.
Looking beyond the horizon
Being an expert in stainless steel, I wanted to think outside the box when designing my own hot tub. I chose another one of our grades, Core 4622. It is a high chromium ferritic stainless steel grade that we introduced in 2013 as a competitive alternative to 304L. It offers similar corrosion resistance, weldability and superior machinability. Being a relatively new grade, I wanted to be able to talk to customers about how to handle and fabricate with it – and the best way to understand that is do it myself. Now, I can say from my heart that I know what I'm talking about.
On top of that, I can use my hot tub to keep a close watch on the technical performance of Core 4622 in the long term. I can see for myself how it performs with heat transfer, corrosion and cleanability over the years in a garden where the outdoor temperature drops to -30 °C.
Sustainability – a new priority for swimming pool owners
Stainless steel is also an ideal material to meet the growing trend for sustainability. Sustainable solutions are ones that combine financial affordability with environmental and cultural sensitivity.
Our grades support all three areas of sustainability. A long life and low maintenance requirements mean that a stainless steel pool has a low Life Cycle Cost (LCC). This is the sum of all costs associated with a pool, including design, manufacturing materials, installation, cleaning, maintenance and end-of-life recycling.
In addition, we have worked hard to limit the energy consumption at our mills to minimize our environmental footprint. Outokumpu's stainless steels generate as little as one-tenth of the carbon dioxide emissions of other producers. This is partly thanks to our use of recycled content, which is the industry's highest level at more than 85 percent.
Calculate the carbon footprint of your pool
In terms of sustainability, our latest news is that we have recently published Environmental Product Declarations (EPDs) for our cold-rolled stainless steel sheet, as well as other products.
The EPDs include data that enables steel buyers to calculate the environmental footprint of the stainless steel they buy from us. They take account of every step of our production from sourcing of scrap to transport and distribution.
As a result, our customers can calculate the carbon footprint of their own swimming pool, hot tub or spa with confidence. Our EPDs are verified by the Institut Bauen und Umwelt (IBU), a German association that is qualified to validate the environmental performance and sustainability of materials in the building and construction industry.