Outokumpu and iStockGasoline Direct Injection (GDI) technology is driving dramatic change in global automotive manufacture. Spurred by environmental concerns, GDI systems improve fuel efficiency, increase torque and horsepower, and reduce emissions.
Today, 10 million vehicles worldwide are equipped with GDI systems. By 2020, estimates call for use of GDI in as many as 35 million vehicles globally. Uniquely strong and corrosion resistant, stainless steel bar plays a key role in this landmark transition.
Uncommon attributes
GDI systems utilize stainless steel bar for a variety of components: high-pressure fuel pump, fuel rail, fittings, connectors, spray nozzles and fuel rail components.
For component production, Outokumpu provides stainless steel bar in four grade families: Prodec, Core, Supra, and Dura. High-pressure conditions necessitate an exceptionally strong material; increasingly corrosive fuel blends require corrosion resistance. Stainless steel delivers both.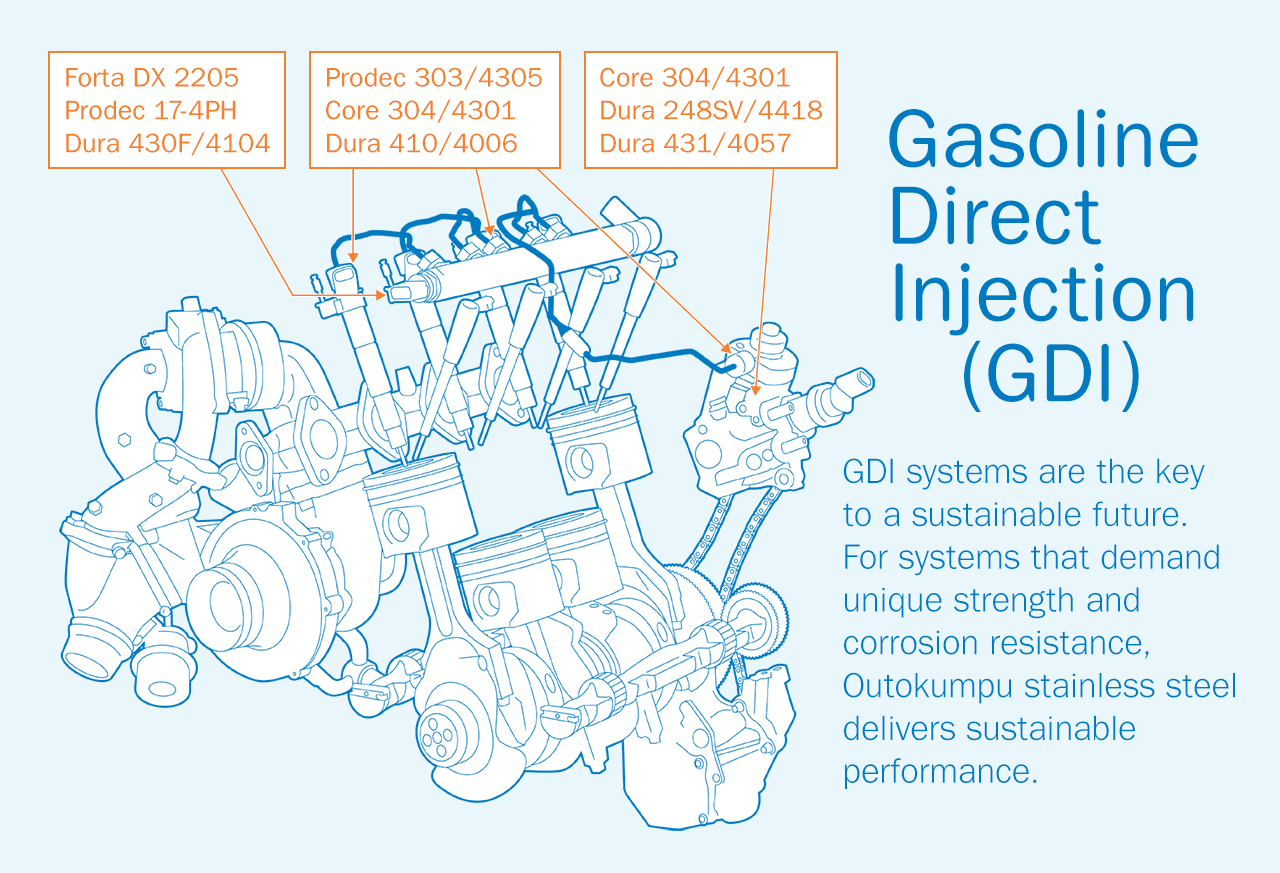 Operating on a global scale
Long identified as an approved supplier by most automakers, Outokumpu routinely provides material on a global scale from its US stainless bar facility in Richburg, South Carolina. "That's a big benefit to automakers who operate worldwide," says Ted Toscos, Regional Sales Director for Outokumpu in the US.
The fact that most of Outokumpu stainless bar deliveries are completed on time is no accident. "We pride ourselves on managing the supply chain to have good delivery performance that can match market requirements," says Business Development Manager Angus Wilkinson, Sheffield, England.
Through perfected production techniques, Outokumpu is committed to meeting the unique needs of automakers. "We understand their quality expectations," Toscos says, "and we have a strong understanding of end user needs."
Optimizing performance
Because stainless steel is a relatively new alloy for GDI, customer education is critically important. Outokumpu provides specialized training for its customers in the automotive market supply chain. "Through technical expertise and machining support, we help our customers learn how to machine and optimize performance," Toscos says. "When someone in the supply chain can make a part for less money, that benefits all of us."
It's a two-way street, Wilkinson notes. "We continue to learn from our customers about their requirements," he says, "and how we can improve our offering to match those."